Senior Open Golf: Bernhard Langer confirmed for Wales event
Last updated on .From the section Wales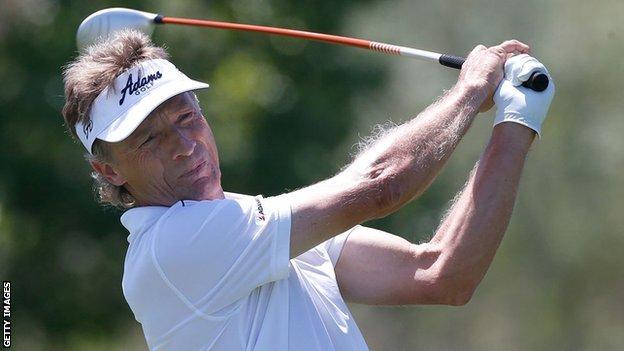 Bernhard Langer will be hoping to revive happy memories when he returns to Wales for the Senior Open Championship from 24-27 July.
Two-time Major winner won his first European Tour event when he claimed the Dunlop Masters at St Pierre in Chepstow in 1980.
The 56-year-old German has confirmed he will play in the Senior Open on the south Wales coast at Porthcawl.
"I have good memories from Wales," he told BBC Radio Wales.
Langer joins an entry list that includes Ian Woosnam, Fred Couples, Colin Montgomerie, Tom Watson and Miguel Angel Jimenez.
He won the US Masters in 1985 and 1993, and says it all started in the Welsh border town of Chepstow in 1980.
"I have played a couple of tournaments in Wales, and in fact my first official European Tour win was in Wales - not at Royal Porthcawl but at St Pierre," he said.
"I have played at Royal Porthcawl before - over 30 years ago or something now. It's a beautiful course and venue.
"It's a little difficult to get to, but a great venue and the senior open is a great event."
Langer lives in southern Florida and plays his golf on the Challenger Tour in the US, but says he looks forward to returning to Europe for senior events.
"What makes it so special is that we've known each other for over 30 years many of us and have become friends," added Langer.
"We know each others' families. We have a lot in common and we've been battling each other for years, but we're friends also.
Langer has competed in the last six Senior Open championships, and says he's looking forward to re-acquainting himself with the links at Porthcawl.
"I'm just going to get there by Monday and have a couple of rounds and see how it's changed," he said.
"I know the surrounds have changed, but I'm not sure about the golf course - I remember it's a links course with some challenging holes. It's usually windy - typical British Open golf."