Ed Laverack: National Road Race win 'biggest result' of career
Last updated on .From the section Wales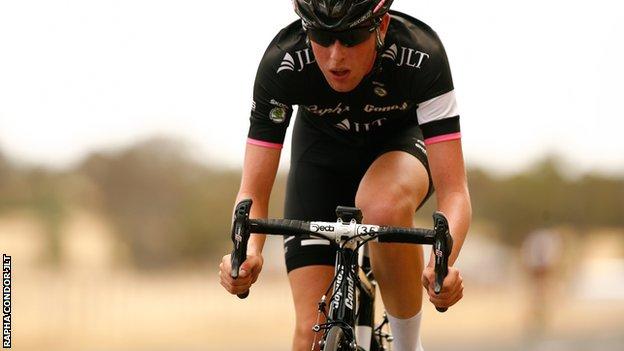 Llanelli cyclist Ed Laverack says winning the under-23 gold medal at the British National Road Championships was the biggest achievement of his career so far.
The 19-year-old finished 13th overall, but first amongst the under-23 riders.
It completes an impressive championship for Wales as Scott Davies took the age-grade title in the time-trial on Thursday.
"This is my biggest result so far," said Laverack.
"I'm really pleased with this ride... the team did a phenomenal job.
"I definitely didn't expect it."
Laverack, who finished just under 4 hours, 31 minutes, has not been selected to represent Wales at the Commonwealth Games.
Fellow Welshman Dan Pearson, 20, won silver in the men's under-23 category to make it four medals in the men's age-grade races after Davies' and Owain Doull's success.
"It's been great for us… a terrific week," said Laverack, who signed for the Rapha Condor JLT team in 2012.
"I was suffering in the last few laps, but I just knew I had to hold on to get this jersey."
The overall men's race was won by Peter Kennaugh, with double Olympic champion Geraint Thomas recovering from an early mechanical problem to finish eighth.
Cardiff's Luke Rowe collected his second fourth place finish of the week, leaving the 24-year-old with mixed emotions.
"It's kind of like close but no cigar," said Rowe.
"I gave it my all...[but] I didn't quite have the legs in the finale.
"It would have been nice to spray some champagne, but after a ride like that I can hold my head high."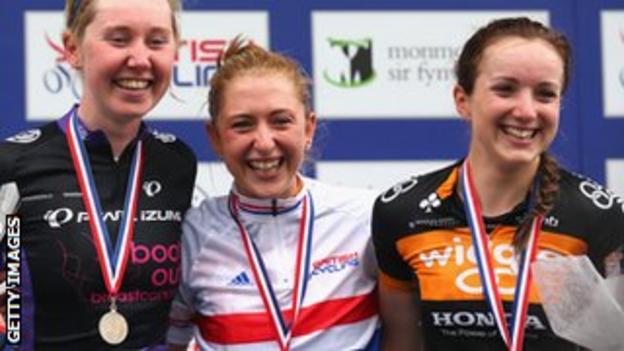 In the women's 64-mile road race, double Olympic gold medallist Laura Trott won outright, with Wiggle Honda team-mate Dani King pipping defending champion Lizzie Armitstead to finish second.
Wales' Elinor Barker finished in eighth place overall and third among the under-23 riders for a junior bronze medal.
"I'm really happy," said Barker.
"It's nice to get a one-two for the team and then for myself to get third in the under-23s as well, it's a pretty good day all round.
"I couldn't really ask for much more."
Barker had previously said that she was targeting a gold medal at the Commonwealth Games.
The 19-year-old finished fourth in the time-trial on Thursday and is pleased with her progress ahead of Glasgow.
"I am [optimistic]," said Barker.
"We've got a really strong team...I'm looking forward to it massively.
"There are a lot of people that are very evenly matched...so whoever gets on the podium it's going to be whoever is going well on the day."