Jamie Donaldson focuses on upcoming events, not Ryder Cup
Last updated on .From the section Wales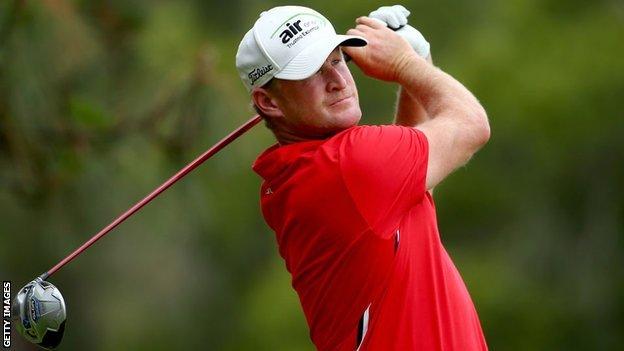 Jamie Donaldson says he has more pressing issues than representing Europe in the Ryder Cup as he prepares for a busy three weeks.
The Welshman is in line to make his Cup debut in Gleneagles in September.
But after a fifth-place at the International Open in Cologne, Donaldson claims to be concentrating on the immediate future.
"It was nice to have a very good week and get going and set myself up we'll for the next three weeks," he said.
"[It's] going to be three big, important weeks and I'm going to fancy my chances."
Donaldson missed out on being part of a multi-player play-off in Cologne by just one shot.
But he's hoping to use that good form as a springboard for his efforts at the French Open (3-6 July), Scottish Open (10-13 July) and The Open Championship (17-20 July).
"I play those three events, then have a week off followed by two weeks in America," he added.
"So there's lots to play in and lots to do well in."
However, Donaldson's emergence in into the top four in the European Tour rankings has put him in a strong position to make his first appearance at bi-annual match play showdown between Europe and the USA at the age of 38.
And while the subject dominates questions to the player, his focus is elsewhere.
"I'd love to play [in the Ryder Cup], I want to play, but I've got loads of golf to play before then," he told BBC Radio Wales Sport.
"So I'm just trying to do well in the tournaments I'm playing in and contend to win the tournaments that I play in.
"I was close last week and I need to do that as much as possible and then everything else takes care of itself.
"I feel comfortable in the environment. The Majors are all tough golf courses so you've got to be going in there ship-shape.
"I played well in the Masters, not so good in the US Open.
"But you know now it's a case of playing well in the next four weeks to set myself up to play well in the Open and then play well in the USPGA.
"The Ryder Cup is very important, but so are Majors.
"I've just got to get my head down and keep pushing forward all the time."