Glasgow 2014: Helen Jenkins targets Games gold over title bid
Last updated on .From the section Wales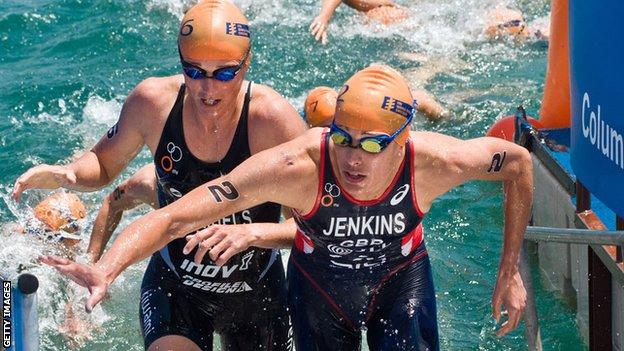 Helen Jenkins is prioritising her bid for the Commonwealth Games title over pursuing a third world triathlon crown.
The 30-year-old, who is twice a former ITU world champion, is currently second in this season's standings after a silver medal in Chicago.
But Jenkins told Radio Wales Sport she will use the next round in Hamburg on 12-13 July to sharpen herself before representing Wales at Glasgow 2014.
"The big focus of mine is the Commonwealths," she said.
"The next [ITU] race is in Hamburg, 10 days out from Commonwealth Games so I'm not going to be hitting that in top form.
"It's part of my preparation, it's almost like a sharpening for Glasgow."
Jenkins, who was born in Elgin, Scotland, will be the main focus for Welsh medal hopes on the opening day in Glasgow following the withdrawal through injury of reigning world champion Non Stanford.
She admits to being excited by the challenge of representing Wales, but after Glasgow does not rule out making a strong bid for the world crown she won in 2008 and 2011.
"After the Commonwealths there's two more [ITU] events, so it's possible that I could win the world championship again," she added.
"But at the moment the focus is getting ready for the Commonwealths and I'll worry about the last two races after that."
Jenkins missed the whole of the 2013 season - when Stanford took the world crown - with injury.
She admits to being pleasantly surprised by her performances so far this season, particularly the second place to the USA's Gwen Jorgensen in Chicago on 29 June.
"It was very close," she added. "I'm very happy with second - after the year I had last year I never expected to be on the podium.
"Gwen is running very well so I'm pleased with my performance - it was very hot and humid so to do that and have that result in those conditions was good for me.
"We're not expecting the same conditions in Glasgow!"
The Bridgend-based athlete has decided not to take part in the triathlon relay at the Commonwealth Games because there is not enough recovery time after the individual race.
"It's hard not to do it. I really, really wanted to do it, but it's just not sensible given my injury history over the past year," admitted Jenkins.
"It's just too much of a risk to do another race two days later.
"I have to be sensible and do what's best for me, but I'll be there cheering the team on."