Glasgow 2014: Wales countdown to the Commonwealth Games
By Tom Gerken
BBC Wales Sport
Last updated on .From the section Wales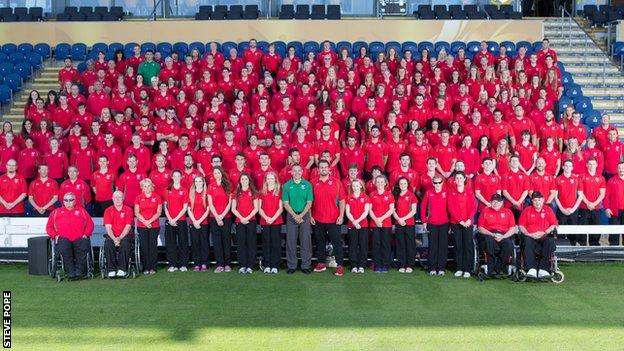 Glasgow 2014 Commonwealth Games
Dates:
23 July - 3 August
Coverage:
Live on BBC TV, HD, BBC Radio 5 live, Red Button, Connected TVs, online, tablets and mobiles
Wales have competed at the Commonwealth Games since 1930, when it was known as the Empire Games.
Their first medallist was Valerie Davies, a swimmer who won two silver and one bronze medal in 1930. Welshman Reg Thomas also won a gold and a silver athletics medal that year, but he competed for England as Wales did not have an athletics organisation at the time.
In 1938, James William Llewellyn Alford won Wales' first official gold medal in the one mile race. Since then, Wales have gone on to win 52 gold medals, 75 silver and 106 bronze.
Did you know that Wales have won 50 weightlifting medals over 56 years? Or that Wales' first shooting medallist was a man called Lord John Swansea?
BBC Sport breaks down the history of Wales at the Games through numbers, and considers which Welsh athletes at Glasgow 2014 have a chance of making history.
Wales' eight best sports are surprising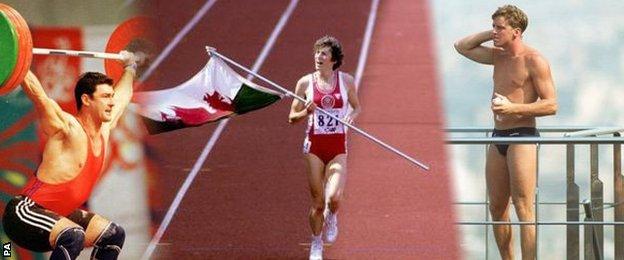 WALES' TOP COMMONWEALTH SPORTS

DISCIPLINE

GOLD

SILVER

BRONZE

TOTAL

Weightlifting

18

12

20

50

Athletics

14

16

17

47

Aquatics

5

8

10

23

Shooting

5

6

10

21

Boxing

4

13

15

32

Lawn bowls

3

9

12

24

Cycling

2

2

7

11

Badminton

1

0

1

2
Wales' most successful sport at the Commonwealth Games, both in terms of total golds and medals won, is weightlifting. This is primarily down to the success of David Morgan, Andrew Davies and Michaela Breeze, who have taken 21 medals in total.
Wales' second most successful sport is athletics, at least in part because of Kirsty Wade, Colin Jackson and Lynn Davies, who have won seven gold medals between them.
Perhaps the most surprising thing about Wales' top sports is the close proximity of shooting and aquatics, where only two silver medals separates the disciplines on the list.
Wales' first shooting gold was achieved by Lord John Swansea in 1966, who went on to also win a silver and become the most successful Welsh Commonwealth shooter in history.
However it seems unlikely that shooting will overtake aquatics on the list because of the impressive swimming team that Wales are sending to Glasgow. Jazz Carlin, Georgia Davies and Jemma Lowe have all already medalled in the Commonwealth Games, and they will have eight events between them to add to their tallies.
Did you know? Wales have won at least one shooting medal at every Commonwealth Games since 1966, with the exception of 1970 when it was not included.
Seven athletes with no Commonwealth medals could take gold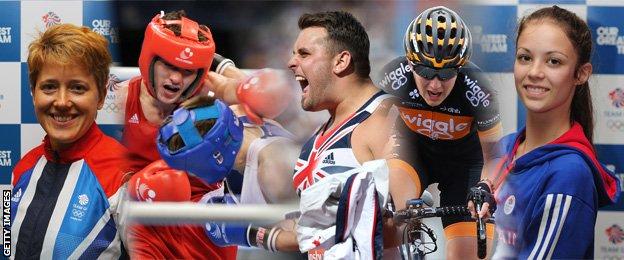 A lot has changed since Delhi.
Andrew Selby travelled to India for the 2010 Commonwealth Games and is now the top-ranked Commonwealth boxer in his weight category.
Five athletes who didn't even make the selection for Delhi have emerged as real contenders for Glasgow including team captain Aled Sion Davies, who took a gold medal in the F42 discus at the Olympics.
Elena Allen is a skeet shooter currently ranked eighth in the world, with none of the athletes ahead of her eligible for Glasgow. The same can be said of Natalie Powell, who took bronze at the Budapest Grand Prix in June 2014 where the gold and silver medals were taken by competitors from outside the Commonwealth.
Elinor Barker, 19, and 18-year-old Laura Halford are both optimistic of their chances. World team pursuit champion Barker , while British rhythmic gymnastics champion Halford
Did you know? Wales captain Aled Sion Davies, 23, set a new world record in the men's discus F42 in May 2014.
Six athletes are out, but one sport could still see heroics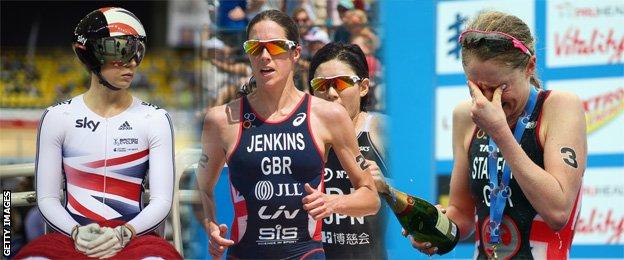 WALES' TOP COMMONWEALTH CYCLISTS

ATHLETE

GOLD

SILVER

BRONZE

TOTAL

Nicole Cook

1

0

1

2

Louise Jones

1

0

0

1

Becky James

0

1

1

2

Huw Pritchard

0

1

0

1

Don Skene

0

0

2

2

John Hatfield

0

0

1

1

John Beswick

0

0

1

1

Sally Hodge

0

0

1

1

Geraint Thomas*

0

0

1

1

*Competing in Glasgow
When BBC Wales looked ahead to the Commonwealth Games with 100 days to go, three of the first athletes named as medal hopes were Non Stanford, Helen Jenkins and Becky James. What could have been a historic first day of medals has turned into a nightmare, with all three ruled out through injuries.
This is made worse by the fact that a gold medal would have made any of them the most decorated Welsh athlete in their discipline at the Commonwealth Games.
Gareth Warburton and Ashley Brace have both been ruled ineligible for Glasgow, leaving Wales without any athlete competing in the men's 800m and the 51kg women's boxing. Defending 400m hurdles champion Dai Greene has also questioned his chances of earning a podium place, as he battles back to full fitness for the Games.
In cycling, Becky James' injury may have paved the way for Geraint Thomas to take the limelight.
Thomas has only previously competed in one Commonwealth Games - Kuala Lumpur 1998 where he won a bronze medal - and he will be travelling to Glasgow with Wales' cycling hopes resting on his shoulders. A gold medal will make him the joint most successful cyclist, equalling the achievements of Nicole Cook where she took a gold and a bronze in 2002 and 2006.
Did you know? Thomas will be competing in both the road race and the time trial. If he took podium in both of those races including one first-place finish, he could top the list of Welsh cycling medallists.
There are five sports where Wales have medalled, but never won gold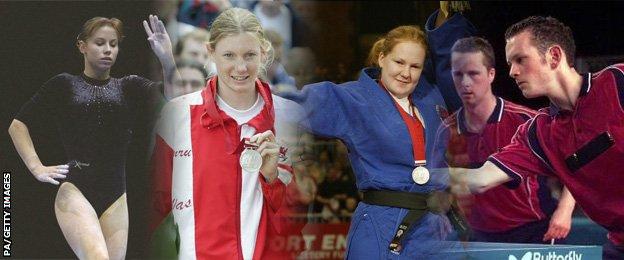 WALES' FIVE MIDDLE COMMONWEALTH SPORTS

DISCIPLINE

GOLD

SILVER

BRONZE

TOTAL

Judo

0

3

8

11

Gymnastics

0

3

0

3

Table Tennis

0

1

0

1

Triathlon

0

1

0

1

Squash

0

0

1

1
Wales have historically been successful in judo. A haul of five medals in 1990 and six in 2002 is made more impressive as the sport is optional - Glasgow will mark only the third time it has been part of the Commonwealth Games.
In all of these disciplines, Wales' success has been modern. The table tennis and triathlon silvers came in 2002, while the two most recent gymnastics silvers came in 2006 and 2010. The squash bronze came in the first year it became part of the games in 1998.
Did you know? Wales' table tennis hopeful Charlotte Carey competed in the Delhi Games at the age of 14.
There are four sports where 61 athletes could be the first to medal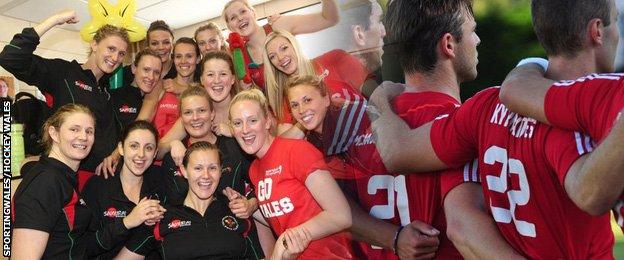 WALES' FOUR BOTTOM COMMONWEALTH SPORTS

DISCIPLINE

GOLD

SILVER

BRONZE

TOTAL

Hockey

0

0

0

0

Netball

0

0

0

0

Rugby 7s

0

0

0

0

Wrestling

0

0

0

0
What do hockey, netball, rugby sevens and wrestling have in common?
Wales have never managed a single medal - let alone gold - in any of these disciplines.
There are 12 netball players, five wrestlers, 12 rugby and 32 hockey players who could be the first Welsh athletes to ever achieve a medal in their discipline.
The question of why may have a simple answer - in all of these sports, being the Commonwealth Games does not weaken the event. For example, the most dominant forces in world rugby - New Zealand, Australia and South Africa - are all eligible to compete in the Games, which makes rugby sevens just as competitive in Glasgow as it will be when it becomes part of the Olympic programme in Rio 2016.
Did you know? New Zealand have not lost a single match since rugby sevens' inclusion in 1998, with four gold medals to their name.
Three athletes need podium to top their disciplines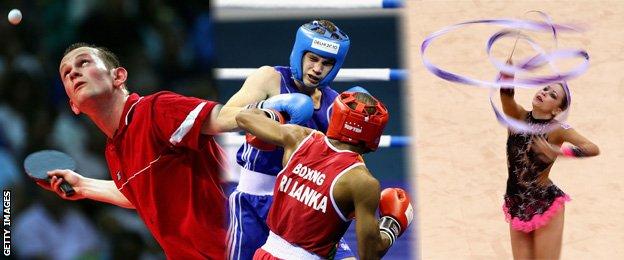 WALES' COMMONWEALTH GYMNASTS

ATHLETE

GOLD

SILVER

BRONZE

TOTAL

Sonia Lawrence

0

1

0

1

David Eaton

0

1

0

1

Frankie Jones*

0

1

0

1

*Competing in Glasgow
Sean McGoldrick, Ryan Jenkins and Frankie Jones have one thing in common - they are all tied for top spot in their respective sports.
Controversy surrounds McGoldrick - his bantamweight boxing gold came after his opponent was disqualified - but he is nonetheless one of three athletes that only need one medal. Ryan Jenkins is one of two athletes to have a table tennis silver, whilst Frankie Jones is one of three to have a gymnastics silver.
Wales flag-bearer Jones won her silver in Dehli and went on to be a part of Team GB at London 2012. If Jones can take a medal in any part of her rhythmic gymnastics performance, she will become the most successful - but there may yet be a twist in her story.
Jones came second in the British Championships in May 2014 with a single mistake costing her, allowing the gold medal to be taken by fellow Welsh athlete Laura Halford.
Did you know? Jones has returned to the sport after suffering a hip injury in 2012 that she feared would end her career.
Two medallists need gold to top their disciplines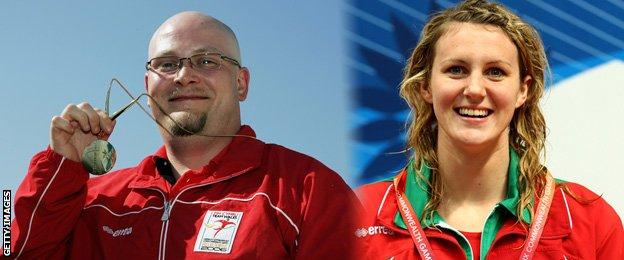 WALES' TOP COMMONWEALTH SWIMMERS

ATHLETE

GOLD

SILVER

BRONZE

TOTAL

Robert Morgan

1

1

1

3

William Brockway

1

1

0

2

Michael Richards

1

1

0

2

David Davies

1

0

1

2

Patricia Beavan

1

0

0

1

Valerie Davies

0

2

2

4

Martyn Woodroffe

0

1

2

3

Jazz Carlin*

0

1

1

2

*Competing in Glasgow
Swimmer Jazz Carlin won a silver and bronze medal at the last Commonwealth Games and looks set to challenge for the top spot in Glasgow, while rifleman David Phelps managed a gold and bronze in 2006.
Phelps is the fourth-most successful Welsh Commonwealth shooter of all time, behind Michael Jay, Johanne Brekke and Lord John Swansea. A gold would propel him to the top of the list, and the same could be said for Carlin.
But while Carlin would become the most successful swimmer, it would only tie her in the overall aquatics category with former diver Robert Morgan. Carlin is competing in the 200m, 400m and 800m freestyle disciplines so she will have multiple chances to put herself top, but in order to do so she will need to win that elusive gold medal.
Did you know? Carlin set the fastest 800m freestyle time in the world this year in April
One gold medal splits two athletes and history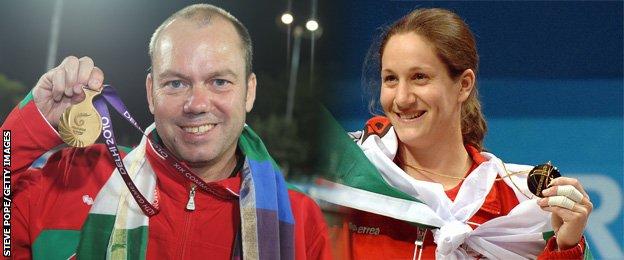 WALES' TOP COMMONWEALTH ATHLETES

ATHLETE

GOLD

SILVER

BRONZE

TOTAL

David Morgan (weightlifting)

9

3

0

12

Andrew Davies (weightlifting)

3

0

1

4

Kirsty Wade (athletics)

3

0

0

3

Robert Weale* (lawn bowls)

2

3

1

6

Michaela Breeze* (weightlifting)

2

3

0

5

*Competing in Glasgow
The most successful athlete in Wales Commonwealth Games history is David Morgan, who won nine gold and three silver medals in a glittering 20-year weightlifting career. The next man to even come close is Andrew Davies, a weightlifter who took three gold and one bronze from two games. Both are now retired.
In contrast, Michaela Breeze has earned two gold and three silver medals, making her the second best female athlete to have ever competed.
Robert Weale is one of the most successful Commonwealth competitor of all time, with two gold, three silver and one bronze medal to his name. He is already second in terms of total medals earned (six), but one more gold medal will make it undisputed.
While Breeze could not overtake Weale if the bowler took gold, she would overtake Kirsty Wade - making her the most successful female athlete to have ever competed at a Commonwealth Games. If she is to overtake Wade it would have to happen in Glasgow too, as Breeze has confirmed her intentions to retire after the Games.
While overtaking David Morgan would be unrealistic, taking the second spot would be an incredible achievement for either athlete, as Andrew Davies has held that position for 24 years. No matter what happens, Breeze and Weale will go down as two of the Commonwealth greats.
Did you know? Weale's most recent gold came in Delhi four years ago, while his other came the last time the games were held in Scotland - in Edinburgh, 28 years ago.