Taekwondo: Jade Jones in a 'good place' ahead of World Grand Prix
Last updated on .From the section Wales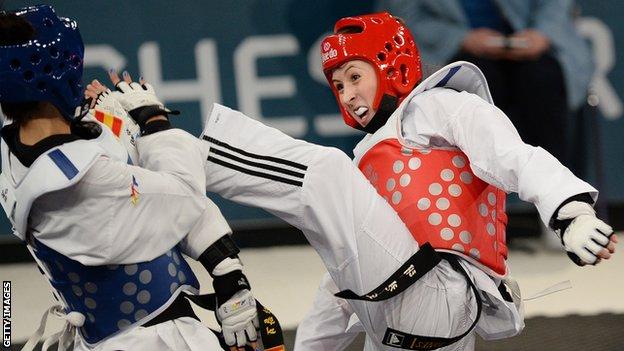 Olympic champion Jade Jones says she is in a confident mood ahead of the latest leg of the World Taekwondo Grand Prix.
She is one of seven British fighters taking part in the second event of the series in China on 4-6 July.
With ranking points for the 2016 Rio Olympics on offer, Jones is keen to carry on her good form.
"I am in a good place now, both mentally and physically, so am really looking forward to all the challenges which are coming up," said Jones.
The 21-year-old won gold at the Swiss Open in Lausanne in June in the women's -57kg category.
She said the amount of competitions with Olympic ranking points available has also changed the way she trains.
"Now we have to be conditioned all through the year, so the training has been ramped up quite a bit," said Jones.
"We have even done kicking up and down a hill just by Manchester City's stadium and we were getting a lot of funny looks, with some vans going past when we were all screaming and shouting."
Jones, from Flint in north east Wales, said deciding which competitions to take part in has also been challenging.
"You have to try to find a balance because it is no good fighting in a ridiculous amount of competitions and then get injured or be tired for the main ones," she said.
"But also if you are not getting the [Olympic] qualification points, then someone else is.
"It is hard, because you want to go to every tournament, but that does take a toll on your body."
British World Taekwondo Grand Prix fighters:
Friday, 4 July: Mahama Cho (+80kg); Bianca Walken (+67kg)
Saturday, 5 July: Aaron Cook, Lutalo Muhammad, Damon Sansum (-80kg)
Sunday, 6 July: Michael Harvey, Ruebyn Richards (-68kg); Jade Jones (-57kg)
Jones, who admitted that she "fell out of love" with the sport after winning Olympic gold at London 2012 said she is looking forward to the challenges ahead of her and learning to cope with the weight of expectation is just one of them.
"People think that just because I am the Olympic champion I am going to beat everybody," said Jones.
"But everyone else is chasing my tail so I have to constantly try to find ways how I can improve and stay that extra step ahead of the others, which is hard work."
The final World Taekwondo Grand Prix of 2014 will be held in Manchester from 24-26 October.