Ian Woosnam: My Royal Porthcawl knowledge key to success

By Ian Woosnam
Former world number one
Last updated on .From the section Wales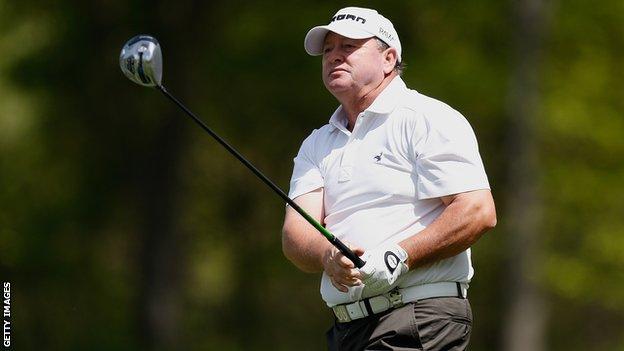 Senior Open Championship
Venue: Royal Porthcawl Golf Club, 24 to 27 July
Coverage: Updates via the BBC Sport website, Radio Wales and Radio Cymru.
I was on a flight to Singapore the other day and, as I sat in my seat, I started to think about my plans ahead of playing in the Seniors Open Championship at Royal Porthcawl.
I'm really looking forward to playing again in Wales. It's always special for me to play in front of a home crowd and I'm sure the fans will be lining the fairways as Wales hosts its first major tournament between 24 and 27 July.
As a proud Welshman, I'm delighted to see The Open is coming to Wales. We've got some great golf courses and Royal Porthcawl is up there as one of the very best.
It's a course that I know very well and that will hold me in good stead, but I also know where the trouble is, so I'll have to make sure that I keep control of the ball and plot my way around the course.
You have to play it like a jigsaw. You've got to put yourself in the right position for the next shot, because if you're in the wrong spot, or the rough, then you have no chance.
If the weather is on your side then I know I can shoot five or six under par just like I did last year in the Wales Seniors. But if the wind gets up then it can be very tricky and sometimes you have to be happy walking off 18 with level par.
Although it's a major, I won't be doing anything different in my preparation. I've not played very much golf this year but I'm relatively happy with the way I'm hitting the ball. I'll have a couple of practice rounds.
Fred Couples is playing there too and I know that he and the other Americans will be looking forward to coming to Wales. They would have seen us stage the Ryder Cup in 2010, but for many it will be the first time they will have played in Wales.
The standard of field is going to be very high, that's exactly what you would expect from an Open, with the likes of Bernhard Langer and this year's USA Ryder Cup captain Tom Watson playing.
Opening holes hold the key to Royal Porthcawl
"It's the first few holes where you've got to get off to a steady start, with the out of bounds just on the left.
"If you can get through level after the par three (fifth hole), the course is there for the taking. All the par fives are reachable at the moment. It's right in front of you."
- Mark Mouland, former European Tour professional
A couple of the American players have been asking me about what to expect from the course. I didn't want to give too much of my local knowledge away, but I've told them to be prepared for a real test of golf if the wind blows.
I used to love hitting my old one iron back in the day, and keeping it under the wind. Porthcawl is a brilliant test of shot-making - I like to shape the ball but it is becoming more difficult to do that with the new modern clubs, so perhaps I'll dust off my old favourite and hope it works for me.
It's going to be a great event and I'd like to see as many fans out on the course as possible. I'll guarantee you all a great party if I get my hands on that famous claret jug.
Ian Woosnam was speaking to BBC Wales Sport's James Pontin.