Glasgow Commonwealth Games 2014: Team Wales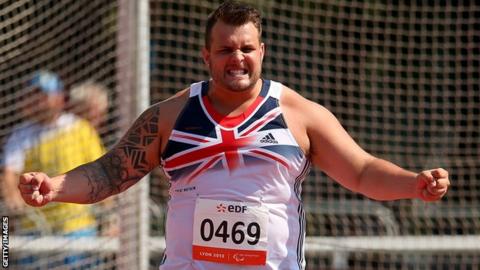 Glasgow 2014 Commonwealth Games
Dates: 23 July - 3 August Coverage: Live on BBC TV, HD, BBC Radio 5 live, Red Button, Connected TVs, online, tablets and mobiles
Team Wales arrived at the 2014 Commonwealth Games with a large target of 27 medals - raising the stakes following the 19 earned in Delhi in 2010.
BBC Wales have already taken a look at the , and now looks at all of the athletes chosen to represent Wales at the twentieth Commonwealth Games.
Athletics
Commonwealth champion 400m hurdler Dai Greene and double world champion discus thrower Aled Davies are part of Wales' athletics team for Glasgow 2014.
There are several debutants in the squad, including 16-year-old Swansea sprinter Hannah Brier who is part of the 4x100m relay squad.
However, there was no place for sprinter Christian Malcolm after he failed to achieve the A standard 200m selection time at the Welsh Athletics Championships in Cardiff.
Athletics
Name
Discipline
Adam Bitchell
10,000m
Olivia Breen
Long Jump - F38
Hannah Brier
4x100m Relay
Aled Sion Davies
Discus - F42
Andrew Davies
Marathon
Lee Doran
Javelin
Jonathan Edwards
Hammer
Lucy Evans
4x100m Relay
Chris Gowell
1,500m
Dai Greene
400m Hurdles
Ben Gregory
Decathlon
Dewi Griffiths
10,000m
David Guest
Decathlon
Tracey Hinton
100m - T12
Steffan Hughes
100m - T12 Guide
Rachel Johncock
4x100m Relay
Beverley Jones
Long Jump - F37
Osian Jones
Hammer
Rhys Jones
100m - T37
Elinor Kirk
5,000m & 10,000m
Curtis Matthews
Decathlon
Mica Moore
4x100m Relay
Brett Morse
Discus
Carys Parry
Hammer
Sally Peake
Pole Vault
Matthew Richards
Hammer
Ryan Spencer-Jones
Shot Put
Joe Thomas
800m
Hannah Thomas
4x100m Relay
Paul Walker
Pole Vault
Gareth Winter
Shot Put
Badminton
Women's doubles pair Carissa Turner and Sarah Thomas will spearhead Wales' badminton campaign at the 2014 Commonwealth Games in Glasgow.
Having been crowned champions at the Iceland International and Portuguese Open, Turner and Thomas will pair up again while also competing in the singles event and the mixed doubles.
Joe Morgan, 35, will compete at his third Commonwealth Games.
Badminton
Name
Discipline(s)
Born/Lived
Daniel Font
Men's Singles, Doubles & Mixed Doubles
Mold
Oliver Gwilt
Men's Singles, Doubles & Mixed Doubles
Welshpool
Joe Morgan
Men's Doubles
Gorseinon/Cardiff
Nic Strange
Men's Doubles
Bangor/Cardiff
Sarah Thomas
Women's Singles, Doubles & Mixed Doubles
Cardiff
Carissa Turner
Women's Singles, Doubles & Mixed Doubles
Cardiff
Boxing
The men's boxing team is headed by reigning Commonwealth champion Sean McGoldrick and European gold winner Andrew Selby.
With women's boxing added to the Commonwealth programme, Charlene Jones and Lauren Price represent Wales for the first time - though the IBA have deemed Ashley Brace following her participation at the 2013 Unified Kickboxing World Championships.
Boxing
Name
Category
From
Joe Cordina
60kg
Cardiff
Kody Davies
91kg
Newport
Zack Davies
64kg
Carmarthen
Charlene Jones
60kg
Haverfordwest
Sean McGoldrick
56kg
Newport
Lauren Price
75kg
Caerphilly
Andrew Selby
52kg
Barry
Ashley Williams
49kg
Bridgend
Cycling
Double Olympic champion Geraint Thomas was named in the Welsh Commonwealth cycling team, which has suffered a blow as 2010 medallist Becky James
Geraint Thomas and fellow Team Sky rider Luke Rowe will compete as part of the men's road team.
Also included in the 17-strong squad are world team pursuit champion Elinor Barker, World Cup medallists Jon Mould, Sam Harrison and Owain Doull.
Cycling
Name
Discipline
From
Elinor Barker
Women's Track & Road
Cardiff
Scott Davies
Men's Road
Carmarthen
Owain Doull
Men's Track & Road
Cardiff
Matt Ellis
Men's Para-Track
Nottingham
Sam Harrison
Men's Track & Road
Risca
Rhiannon Henry
Women's Para-Track
Bridgend
Amy Hill
Women's Track & Road
Newport
Ciara Horne
Women's Track & Road
Kenilworth
Rachel James
Women's Para-Track - Pilot
Abergavenny
Hayley Jones
Women's Track & Road
Port Talbot
Jon Mould
Men's Track & Road
Newport
Lewis Olivia
Men's Track
Monmouthshire
Amy Roberts
Women's Track & Road
Carmarthen
Luke Rowe
Men's Road
Cardiff
Geraint Thomas
Men's Road
Cardiff
Ieuan Williams
Men's Para-Track - Pilot
Ieuan Williams
Gymnastics
Wales have named a squad of 13 gymnasts to compete in the men's and women's artistic and rhythmic gymnastics events at the Commonwealth Games.
Rhythmic gymnast Frankie Jones won a silver at the Delhi Games in 2010.
Swansea's Nikara Jenkins and British champion Laura Halford will be vying with her for medals individually, as well as competing together in the team event.
Sport Wales expect to win three medals in gymnastics at the Glasgow Games
Gymnastics
Name
Discipline
From/Lives
Lizzie Beddoe
Women's Artistic
Cardiff
Jac Davies
Men's Artistic
Swansea/Carmarthen
Laura Halford
Rhythmic
Cricklade
Georgina Hockenhull
Women's Artistic
Shrewsbury
Jessica Hogg
Women's Artistic
Cardiff
Nikara Jenkins
Rhythmic
Llanelli
Frankie Jones
Rhythmic
Cardiff
Iwan Mepham
Men's Artistic
Llandau/Barry
Harry Owen
Men's Artistic
Haverfordwest/Kilgetty
Clinton Purnell
Men's Artistic
Cardiff
Angel Romaeo
Women's Artistic
Cardiff
Robert Sansby
Men's Artistic
Nuneaton/Hinckley
Raer Theaker
Women's Artistic
Cardiff
Hockey
Wales will be sending men's and women's teams to Glasgow for the first time since 1998 in Kuala Lumpur, with the women's side including Xenna Hughes , the daughter of former Wales football manager Mark Hughes.
The women performed well in the third tier of the European Championships in 2013, winning every game to take gold, but a podium finish will likely prove beyond them.
In contrast to the women's team, the men's squad will remain in the third tier of the European Championship as they lost to winners Portugal.
Men's Hockey
Name
Club
From
Position
David Kettle
Surbiton
Ascot
Goalkeeper
James Kyriakides
Olton
Swansea
Defender
Michael Shaw
Sheffield
Manchester
Defender
Benjamin Carless
Bath Buccaneers
Shrewsbury
Defender
Peter Swainson
Oxted
Cheltenham
Defender
Richard Gay
Southgate
Johannesburg
Defender
Lewis Prosser
Gantoise (Belgium)
Swindon
Midfielder
Liam Brignull
Cardiff & Met
Cardiff
Midfielder
Matthew Ruxton
Bath Buccaneers
Sheppey
Midfielder
Huw Jones
Reading
Nairobi
Midfielder
Owain Dolan-Gray
Loughborough Students
Swansea
Forward
Rhys Gowman
Sheffield
Cardiff
Forward
Nicholas Rees
Whitchurch
Swansea
Forward
Andrew Cornick
Trojans
Southampton
Forward
Gareth Furlong
Sheffield Hallam
Cambridge
Defender
Daniel Kyriakides
Cardiff & Met
Swansea
Defender
Women's Hockey
Name
Club
From
Position
Ria Male
Swansea City
Aberdare
Goalkeeper
Elie Barnes
Reading
Yeovil
Defender
Jo Westwood
Swansea City
Cardiff
Defender
Kat Budd
Swansea City
Cardiff
Defender
Leah Wilkinson
Swansea City
Burton-on-Trent
Defender
Xenna Hughes
Birmingham University
Wrexham
Defender
Alys Brooks
Birmingham University
Wrexham
Midfielder
Beth Bingham
Swansea City
Swansea
Midfielder
Carys Tucker
Swansea City
Cardiff
Midfielder
Danielle Jordan
Clifton
Abergavenny
Midfielder
Sarah Jones
Reading
Cardiff
Midfielder
Sian French
Bowden Hightown
Knowsley
Midfielder
Abi Welsford
Swansea City
Newport
Midfielder
Emma Batten
Surbiton
Kookaburra
Forward
Phoebe Richards
Beeston
Powys
Forward
Eloise Laity
Bath University
Swansea
Forward
Judo
Judo makes its return to the Commonwealth Games for the first time since 2002, and national coach Craig Ewers is to compete for Wales as part of a 10-strong team.
Darren Warren will cover for Ewers away from the dojo when he challenges in the 81kg class.
Wales also include International Judo Federation 78kg number 13 ranked Natalie Powell among 10 judoka, along with her 57kg sister Kirsty.
Judo
Name
Discipline
From
Kyle Davies
U66kg
Swansea
Curtis Dodge
U73kg
Swansea
Craig Ewers
U81kg
Swansea
Connor Ireland
U73kg
Neath
Jade Lewis
U52kg
Swansea
Jamie MacDonald
U66kg
Maesteg
Kirsty Powell
U57kg
Cardiff
Natalie Powell
U78kg
Cardiff
Ruslan Rancev
U100kg
Flintshire
Mark Shaw
O100kg
Newport
Lawn Bowls
The lawn bowls squad was announced in December 2013 and features 15 competitors ranging in age from 25 to 71, with half the squad making their Commonwealth Games debuts.
Robert Weale, 51, is one of the most experienced and decorated athletes travelling to Glasgow, having represented Wales at every Games since 1986 and amassed two gold, three silver and one bronze medal. His most recent gold came in Delhi four years ago.
Anwen Butten joins him in the squad - she has twice won bronze in the pairs event, in 2002 with Joanna Weale and in 2010 with Hannah Smith.
Caroline Taylor, who will partner her in Glasgow, has won three medals at the World Outdoor Championships - a silver in the pairs and bronze in the fours in 2004, and a bronze in the triples in 2012.
Lawn Bowls
Name
Discipline(s)
From
Mark Harding
Men's Pairs & Fours
Beddau
Paul Taylor
Men's Triples & Fours
Bridgend
Jonathan Tomlinson
Men's Triples & Fours
Neath-Port Talbot
Robert Weale
Men's Singles & Pairs
Presteigne
Marc Wyatt
Men's Triples & Fours
Caerphilly
Anwen Butten
Women's Singles & Pairs
Carmarthen
Lisa Forey
Women's Triples & Fours
Swansea
Kelly Packwood
Women's Triples & Fours
Newport
Kathy Pearce
Women's Triples & Fours
Berriew
Caroline Taylor
Women's Singles, Pairs & Fours
Berriew
Rosa Crean
Visually Impaired Mixed Pairs
Cardiff
Gilbert Miles
Visually Impaired Mixed Pairs
Swansea
Chris Gibson
Para-Sport Triples
Cardiff
Dave Powell
Para-Sport Triples
Monmouthshire
Kevin Woolmore
Para-Sport Triples
Wrexham
Netball
Sport Wales chair Laura McAllister tipped netball to be the "surprise story" of the games following their impressive World Cup qualification victories over Northern Ireland, Republic of Ireland and Scotland.
12 players will be sent to Glasgow, with former captain Billy Pritchard recalled following several years out - but the squad is without experienced defenders Sara Hale, Rosie Pretorius and Stephanie Williams, who have all been ruled out through injury.
The team will be managed by head coach Laura Williams, who took over following the sacking of former head coach Melissa Hyndman after a disciplinary investigation.
Netball
Name
Position
Suzy Drane
C/WD/WA
Bethan Dyke
WA/C
Becky James
GS/GA
Nic James
WD/WA/C
Kyra Jones
C/WD
Nia Jones
WD/GD
Chelsea Lewis
GS/GA
Kelly Morgan
CD/GK
Cara Lea Moseley
GA/WA/GS
Steph Myddelton
WD/GD
Billy Pritchard
WD/GD/C
Leanne Thomas
GS/GA
Rugby 7s
Wales have included Exeter University student Luke Treharne in their sevens squad for the Commonwealth Games.
And there are returns to sevens for Gareth Davies, Jevon Groves and Will Harries.
Coach Gareth Williams had to make tough decisions with sevens regulars Will Price, Sam Cross, Jason Harries and Rhys Jones all missing out.
Rugby 7s
Name
Club
Gareth Davies
Cardiff Blues
James Davies
Scarlets
Iolo Evans
Carmarthen Quins
Jevon Groves
Cardiff Blues
Will Harries
Unattached
Luke Morgan
Bridgend
Gareth Owen
Scarlets
Craig Price
Scarlets
Adam Thomas
Cardiff Blues
Luke Treharne
Exeter University
Alex Webber
Ponytpridd
Lee Williams
Carmarthen Quins
Shooting
London Olympian Elena Allen will head a 14-strong Welsh shooting squad for the 2014 Commonwealth Games in Glasgow.
Allen, who also won skeet bronze in the 2013 World Championships in Lima, will be joined at the Games by husband Malcolm Allen.
The team also includes David Phelps, who won Commonwealth Games gold in the men's 50m rifle prone in Melbourne in 2002.
Shooting
Name
Discipline
From
Elena Allen
Women's Olympic Skeet
Newport
Malcolm Allen
Men's Olympic Skeet
Abercarn
Mike Bamsey
10m Air Rifle & 50m Rifle 3x40
Surrey
Jenny Corish
10m Air Rifle & 50m Rifle 3x20
Caterham
Sian Corish
50m Rifle Prone & 50m Rifle 3x20
Caterham
Kate Cowell
Women's Olympic Trap
Wrexham
Jonathan Davies
Men's Olympic Trap
Neath
Coral Kennerley
10m Air Pistol & 25m Pistol
Aberystwyth
Gareth Morris
Queen's Prize & Pairs
Stanstead
David Phelps
50m Rifle Prone
Cardiff
Rhys Price
Men's Olympic Skeet
Usk
Chris Watson
Queen's Prize & Pairs
Tetbury
Mike Wixey
Men's Olympic Trap
Abergavenny
Sarah Wixey
Women's Olympic Trap
Abergavenny
Squash
Wales have selected a seven-member squash squad for Team Wales ahead of Glasgow 2014 Commonwealth Games.
Ten-times Welsh national champion, Dave Evans and current Welsh number one ranked player, Peter Creed, are both included.
Evans has represented Wales at three previous Commonwealth Games.
Squash
Name
Discipline(s)
From
Peter Creed
Men's Singles, Doubles & Mixed Doubles
Caerphilly
Dave Evans
Men's Doubles & Mixed Doubles
Pontypool
Tesni Evans
Ladies' Singles, Doubles & Mixed Doubles
Cardiff
Scott Fitzgerald
Men's Singles & Doubles
Pontypool
Dave Haley
Men's Doubles
Newport
Joel Makin
Men's Singles
Pembrokeshire
Deon Saffrey
Ladies' Singles, Doubles & Mixed Doubles
Barry
Swimming
Twenty-three swimmers have been selected for Wales's team at the Glasgow 2014 Commonwealth Games, with Jazz Carlin, Jemma Lowe and Georgia Davies among the first announced.
Swim Wales head coach Martyn Woodroffe has already called the squad "the strongest ever Welsh team that we're sending to a Commonwealth Games" and they will need to be - they are being relied upon to win six medals for Team Wales.
Swimming
Name
Discipline
Jazz Carlin
200m, 400m & 800m Freestyle
Georgia Davies
50m & 100m Backstroke, 4x100m Medley
Mari Davies
4x100m Free
Thomas Haffield
400m IM
Robert Holderness
200m Breaststroke & 4x100m Medley
Ieuan Lloyd
200m IM
Calum Jarvis
200m Freestyle & 4x100m Medley
Daniel Jervis
1500m Freestyle
Ellena Jones
800m Freestyle
Tom Laxton
100m Butterfly & 4x100m Medley
Marco Loughran
50m Backstroke & 4x100m Medley
Jemma Lowe
100m & 200m Butterfly, 4x100m Medley
Hannah McCarthy
4x100m Free & 4x100m Medley
Xavier Mohammad
4x100m Medley
Sian Morgan
4x100m Free & 4x100m Medley
Otto Putland
100m Freestyle & 4x100m Medley
Bethan Sloan
4x100m Medley
Danielle Stirrat
4x100m Free
Alys Thomas
4x100m Medley
Jack Thomas
200m Freestyle - S14
Chloe Tutton
200m Breaststroke & 4x100m Medley
Ryan West
100m Freestyle - S9
Rachel Williams
4x100m Free
Table Tennis
Twin sisters who play table tennis together have been selected to represent Wales at the Commonwealth Games in Glasgow this summer.
It will be the second time Angharad and Megan Phillips, 20, from Ruthin in Denbighshire, have been in the competition after playing in the 2010 Delhi games - and the twins deferred places at university for two years in order to commit full time to the sport, with the aim of making the Olympic squad for Rio in 2016..
Incredibly, they are the second sibling pair to be selected for the table tennis event as brothers Ryan and Stephen Jenkins from Rhondda Cynon Taf are also in the squad.
Table Tennis
Name
Discipline
From
Carlotte Carey
Women's Singles, Doubles & Mixed Doubles
Ebbw Vale
Conor Edwards
Men's Singles, Doubles & Mixed Doubles
Tonypandy
Ryan Jenkins
Men's Singles, Doubles & Mixed Doubles
Pontypridd
Stephen Jenkins
Men's Singles, Doubles & Mixed Doubles
Pontypridd
Daniel O'Connell
Men's Singles, Doubles & Mixed Doubles
Abergavenny
Naomi Owen
Women's Singles, Doubles & Mixed Doubles
Llandrindod Wells
Angharad Phillips
Women's Singles, Doubles & Mixed Doubles
Bodelwyddan
Megan Phillips
Women's Singles, Doubles & Mixed Doubles
Bodelwyddan
Chloe Thomas
Women's Singles, Doubles & Mixed Doubles
Tredegar
Triathlon
Wales will be without the current and former world triathlon champions for the 2014 Commonwealth Games in Glasgow.
Current world champion Non Stanford had been originally selected, but injury has ruled her out of competition. She has since been replaced by Carol Bridge, a 29-year-old accident and emergency nurse.
The team suffered a further blow when Helen Jenkins, 2008 and 2011 ITU World Champion, was also ruled out of the Games because of a foot injury.
Despite injuries to Stanford and Jenkins there was no place for Ironman world champion Leanda Cave, with Holly Lawrence taking the third women's spot.
Triathlon
Name
From
Carol Bridge
Rhondda
Morgan Davies
Porthcawl
Holly Lawrence
Swansea
Liam Lloyd
Llanelli
Alex Matchett
Haverfordwest
Weightlifting
Welsh weightlifter Michaela Breeze, who has won two gold and three silver medals at the Commonwealth Games, says Wales can win at least two weightlifting medals in Glasgow.
The 34 year-old says the sport is "on the up" in Wales and has no doubts over what the team should be aiming for in Glasgow.
Also selected are British champion Gareth Evans and 20 year-old Darius Jokarzadeh from Cardiff, who is returning from playing American football in Pennsylvania to compete at the Games.
Weightlifting and powerlifting
Name
Discipline
Michaela Breeze
58kg
Gareth Evans
62kg
Darius Jokarzadeh
105+kg
Stephanie Owens
63kg
Natasha Perdue
69kg
Faye Pittman
63kg
Christie Williams
58kg
Wrestling
Welsh junior and senior champion Thomas Hawthorn has been included in Wales' five-member wrestling team for the Commonwealth Games.
Hawthorn's father Jimmy is a five-time world champion and his brother Brett competed at 2010 Games in Delhi.
The 18-year-old is in the 74kg category, Damion Arzu, 31, is in the 61kg and Craig Pilling, 27, is in the 57kg.
Sarah Connolly, 25, competes in the 63kg category while Oliver Cole debuts.
Wrestling
Name
Discipline
From
Damion Arzu
61kg
Bedford
Oliver Cole
86kg
Cardiff
Sarah Connolly
63kg
Bridgend
Thomas Hawthorn
74kg
Bradford/Llangeinor
Craig Pilling
57kg
Bolton