Nathan Cleverly aims to 'silence' Tony Bellew in 'grudge' bout
Last updated on .From the section Wales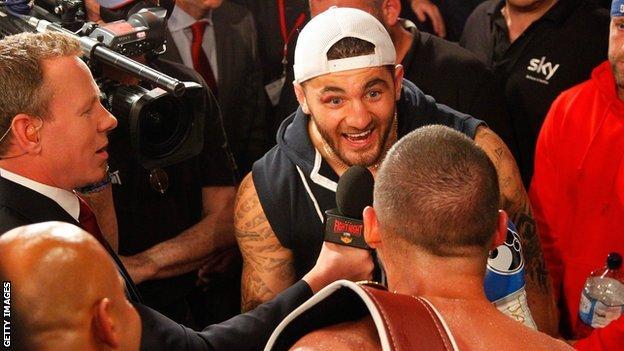 Nathan Cleverly wants to "silence" Tony Bellew on the way to becoming a cruiserweight world title holder.
Welshman Cleverly and Liverpool's Bellew both won their bouts on Saturday by knockout to set up what they hope will be a title eliminator in November.
Bellew beat Julio Cesar Dos Santos and immediately taunted Cleverly.
"I need to silence that guy. He talks the talk, he's a loud-mouth, disrespectful," said Cleverly, who beat Bellew at light-heavyweight in 2011.
That win in 31-year-old Bellew's home city saw Cleverly retain his WBO title.
Cleverly, who has won 28 of his 29 professional fights, moved up to the 200lb weight class after Sergey Kovalev beat him to take his WBO title in August 2013.
Bellew followed Cleverly into the division four months later after losing to Canada's Adonis Stevenson in Quebec City.
Cleverly stopped Alejandro Emilio Valori, again in Liverpool, before he and Bellew's verbal sparring restarted.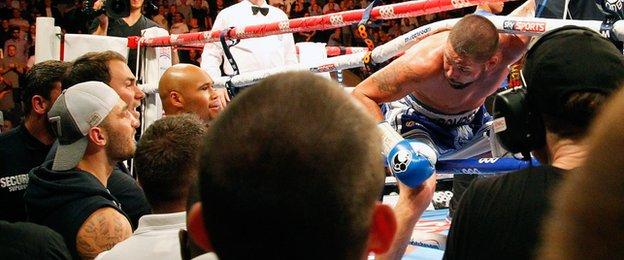 Cleverly had already dubbed their next bout as a "grudge" clash and he told BBC Radio Wales: "The fireworks have started... I've introduced myself into the cruiserweight division [with] two stoppage victories.
"I'm ready to step up now. Tony Bellew has won his two fights; he's ready to step up.
"We're on collision course and we've both done the business.
"Now we're ready to get it on and it's going to be an absolute barnstormer."
The Welsh fighter says Bellew "needs" their next clash more because of the outcome the last time they met in the ring.
"We've got history now," said Cleverly. "The first fight was a cracker and the next fight is going to be even better.
"It's going to be a replica of the first with more power.
"We're heavier. I feel someone's going to go and I'm confident I'm going to do a number on Tony Bellew.
"He needs this fight more because until he gets it and tries to get revenge he's going to be bitter for the rest of his boxing career.
"I can happily move on. I've already got the victory. But the reason I want it is we're on collision course.
"One of us has got to move aside to fight for the world title… there's been talk of it [November's bout] being a world title eliminator.
"I think that's going to be the position of the fight."