Glasgow 2014: Marco Loughran backs Wales to beat swim target
Last updated on .From the section Wales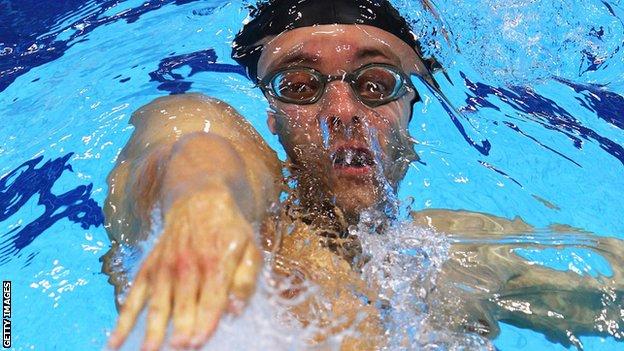 Wales could exceed their target of six swimming medals at the Commonwealth Games in Glasgow, says Marco Loughran.
Jazz Carlin (freestyle), Georgia Davies (backstroke), Jemma Lowe (butterfly) and Thomas Haffield (medley) are seen as good medal prospects.
"If we achieve our personal goals that would help us exceed six," said 25-year-old Loughran who is ranked second in the Commonwealth at 50m backstroke.
"We've got the ability - we've got four or five Olympians on the team."
He added: "For a lot of people this is their second or third Commonwealth Games so they're not going to be shell-shocked when they do turn up."
Loughran believes the relay events may be a rich source of success, thanks to the all round strength of the team.
"As a team in the relay I think we've got a good shot," he said. "I think that's the best shot the men's team have had in the relay for a few Commonwealth Games now.
"So mostly I'd like to come home with a medal in that because it's a team opportunity and in my individual event."

Former Commonwealth gold-medallist David Davies thinks it is the performance of the three women which will decide whether or not the Wales team hit their target.
"Six is a high number," said Davies, who won the 1500m freestyle at Melbourne in 2006.
"The core of the team is the three girls and they are going to be very reliant on them if they are going to make the target of six.
"Four or five would be a very good result but they have shown a lot of confidence in stating they want six medasl. It's going to be tough but hopefully they can do it."
Wales claimed four medals in the pool at the Delhi Games in 2010 - a silver and bronze for Carlin with Davies and Lowe each winning a bronze.