Christian Malcolm tearful as he wins on Wales farewell
Last updated on .From the section Wales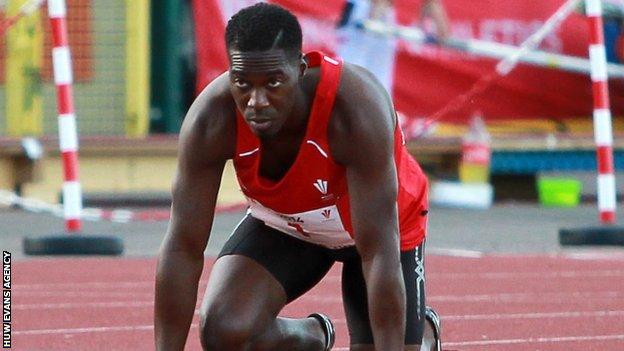 Sprinter Christian Malcolm was tearful after winning his last race on Welsh soil before retiring later this summer.
"I never thought that would happen," said Malcolm of his post-race reaction.
"I am overwhelmed at the support I got today. It's not officially my final race, but I'm surprised how many people turned up."
Malcolm admitted he has struggled for motivation since an Achilles injury prevented him from winning Wales selection for the 2014 Commonwealth Games in Glasgow, which starts on Wednesday, 23 July.
He said: "I've always been very motivated by going to the major championships, so from the time I wasn't going to the Commonwealth Games it was always going to be difficult for me to carry on at a high level for the rest of the season.
"But that reception out there was fantastic. I didn't expect that one bit."
The four-times Olympian was described as a "great of Welsh athletics" by former coach and British sprinting legend Linford Christie ahead of the event in Cardiff.
Before his appearance Malcolm confirmed via Twitter that Tuesday's meeting would be his last in Wales.
"Thanks for all your support," he tweeted. "Overwhelmed! This will be my last race on home soil. Still hoping to continue for the rest of the season!"
After the race he added: "I've always been a battler… someone said to me the other day when I've had as many injuries as I have, people would have given up a long time ago.
"I've been injured every year since the age of 22 and I'm 35 now and I still carried on fighting and still carried on battling in there.
"A lot of people would have given up after three or four years.
"I think that for me it is not just testament to myself but my family and that we've got fighting spirit, and whatever it is we continue to fight for what we believe in and what we feel is right.
"I dreamt of going to one Olympic Games - I've gone to four and one [of them a] home Olympics.
"The Achilles feels good, it's just I've missed so much work [this year] - that's the problem, but the Achilles feels good at the moment."
Malcolm was regarded as a competitor of immense potential after he won the 1998 World Junior 100m and 200m titles.
But injuries and illness dogged his progress.
He failed to reach the 200m final at the Welsh Athletics Championships in Cardiff in June to effectively end his bid to take a place in the Wales team heading to Glasgow.
The Newport sprinter's Achilles tendon problem saw him miss the whole of 2013, including the World Championships in Moscow.
Malcolm has also competed at four Commonwealth Games, winning 200m silver in Kuala Lumpur in 1998 and a bronze in the same event in Delhi four years ago.
The Welsh Athletics International at Cardiff Athletic Stadium in Leckwith brought together some of Wales' leading stars to compete against athletes from countries including Australia, Bahamas, Greece, Jamaica, New Zealand and USA.