South Wales could host 2026 Games - Sarah Powell
Last updated on .From the section Wales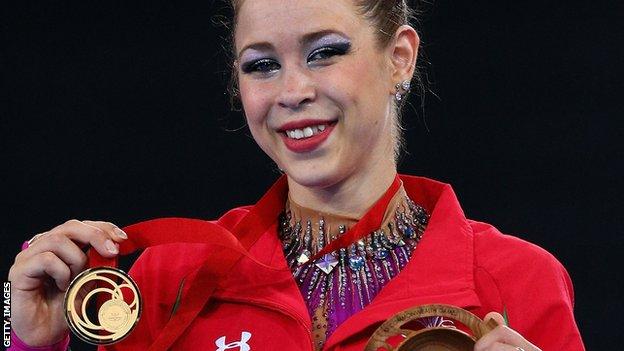 There is "a real opportunity" for south Wales to host the 2026 Commonwealth Games, according to Sport Wales chief executive Sarah Powell.
Known as the Empire Games, they were held in Cardiff in 1958, the only time they have been held in the country.
"I hope Wales as a nation would want to see a Games in 2026," said former Wales hockey captain Powell.
"If there was a bid it would be across the south Wales region and then there's a real opportunity to do it."
Wales won a record 36 medals at Glasgow 2014, beating their previous best haul of 31 at Manchester 2002, although more gold medals were won there by Welsh competitors.
The Games have now been held in Scotland three times as Edinburgh hosted the event in 1970 and 1986.
"I think when you see what Glasgow has done and what Scotland has done, there's no reason why Wales wouldn't have the same aspirations," said Powell.
"We've got a great sporting history, we're a very proud sporting nation, I think everybody has seen what sport can do in galvanising a country."
Powell said that the decision would not be made by Sport Wales, but would need to originate from the Welsh Government, which is assessing whether or not to launch a bid.
A Welsh Government spokesperson said: "We are continuing with work to assess both the benefits and costs to Wales of hosting the Commonwealth Games in 2026.
"A final decision is not due until next year as we wish to take full account of the Scottish experience and of the costs and benefits of the Glasgow games.
"We will also be monitoring very closely the outcome of the 2022 bid process, and its possible impact on a potential Wales bid for 2026."
The cost of hosting a Commonwealth Games could be a key factor, as it was revealed that Glasgow 2014 cost £575m to host - with the opening and closing ceremonies costing a combined £20.85m.
Powell added: "Why wouldn't we put our country on the international map?
"There are some parts of the infrastructure here, but we would need to invest.
"But there's no reason why the infrastructure couldn't be put in.
"We're looking at the Gold Coast bid for the 2018 Games and one that will probably come in from Durban, so there's some opportunities for us to see how others are doing it."
However, Powell emphasised that her brief is to ensure Wales' competitors shine at the top level.
"My focus will be on delivering the systems. We need the medallists - that's the number one focus for us," said Powell.