Geraint Thomas: Gold medallist admits Glasgow 2014 fatigue
Last updated on .From the section Wales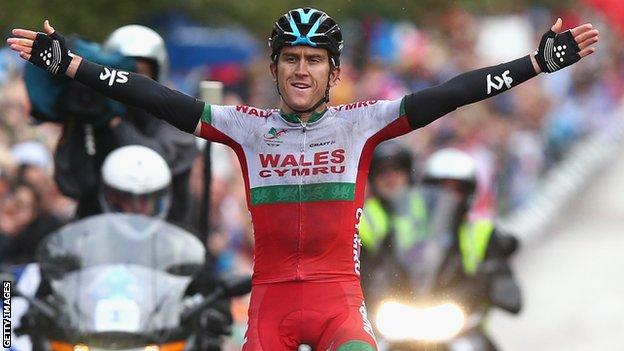 Geraint Thomas says he did not feel fresh during his gold-medal winning effort in the Glasgow 2014 road race.
The 28-year-old Cardiff cyclist became the first man from Wales to win a Commonwealth cycling gold.
"Coming off the back of the Tour de France my body was strong but I just wasn't fresh," he admitted.
"I didn't have that real zip and that real punch. If I had waited for the sprint at the end I would have come away with bronze."
Thomas, who won bronze in the time trial, added: "I knew I had to get a gap so fortunately I had good legs and was able to ride away.
"I am pretty sore now, to be honest. It was a late night on Sunday, and then on Monday I had doping control at 6am."
During the 168km event, which was raced in torrential rain, Thomas, who had been competing on the Tour only days earlier, suffered a puncture six kilometres from the end.
"It was a slow puncture so it didn't go flat straight away," he added.
"Usually you have a team car following but because the gap was still quite small between me and the two chasers the car wasn't allowed to come up to me.
"Luckily there was a neutral service guy on a motorbike with a spare wheel so I flagged him down.
"He came and put a new one on, but it felt like an eternity. It was a slow change and it wasn't a nice 30 seconds or so.
"I just thought I'd see the two guys whizz past me and the race just ride away and lose it all.
Wales' Commonwealth Cycling Medalists

Athlete

Gold

Silver

Bronze

Total

Geraint Thomas

1

0

2

3

Nicole Cooke

1

0

1

2

Louise Jones

1

0

0

1

Elinor Barker

0

1

1

2

Becky James

0

1

1

2

Huw Pritchard

0

1

0

1

Don Skene

0

0

2

2

John Hatfield

0

0

1

1

John Beswick

0

0

1

1

Sally Hodge

0

0

1

1
"Fortunately they didn't catch me. We didn't have race radios and that probably helped me in the end that the two chasers didn't know I had that problem.
"Because of the weather there was people crashing, punctures, people pulling out all over the place. It was just a war of attrition."
Fellow Welsh cyclist Luke Rowe says Thomas deserved his Glasgow 2014 gold medal.
"To finally see Geraint getting what he deserves and crossing that line... to see him on the top step of the podium put a big smile on my face," said Rowe.
"I think we've all seen Geraint time after time burying himself at the front of a race, helping his team-mates.
"People say it's a team sport and you all get the win, but let's face facts - it's only one guy standing on the top of the podium."