Women's World Cup: Gwennan Harries worried by artificial pitches
Last updated on .From the section Wales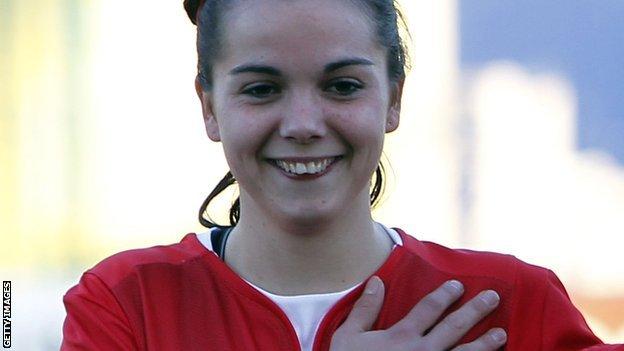 Wales striker Gwennan Harries hopes the decision to play Women's 2015 World Cup matches in Canada on artificial pitches is overturned.
As Canada prepares to host the tournament, 40 top players have signed a petition and threatened legal action if matches are not played on grass.
Harries, 26, supports them and is worried the pitches could cause or aggravate injuries.
"They have a big impact on the players' joints," she said.
"Playing on hard surfaces is going to impact on players' recovery time between games, which is already limited.
"I would have expected them to trial it out with the youngsters, maybe in an under-17 World Cup or in qualifiers before going straight in with the females without consulting any of the top professionals or coaches.
"I really hope that the players are successful with this petition and it gets overturned and back on a normal grass surface."
The petition has been signed by the 2012 and 2013 Fifa Players of the Year, Abby Wambach of the United States and Germany's Nadine Angerer, as well as England players Natasha Dowie and Anita Asante.
A legal letter has been sent to world governing body Fifa and the Women's World Cup organisers in Canada accusing them of discrimination.
It says: "Singling out this women's tournament for sub-standard treatment is a mistake that can and must be corrected."
Women's World Cup Qualifying Group Six

Team

Played

Points

England

8

24

Wales

8

19

Ukraine

7

13

Turkey

8

9

Belarus

8

6

Montenegro

9

0
A Fifa spokesman said the organisation had no comment to make about the letter it had received.
Harries missed nearly two years of football after injuring her knee in 2012 and agrees with former England captain Faye White that a similar trial would not have happened at a men's World Cup.
"I know that the future of the game is going onto harder surfaces," she said.
"I just don't feel this is the right competition to be trialling something so big."
The 24-team World Cup starts on 6 June and will be held across six cities, with the final scheduled for Vancouver's BC Place Stadium on 5 July.
Wales are second in group six and are still hopeful of catching England, who are five points clear with two games to go.
Wales play England next on 21 August, but a point will be enough to secure qualification for the group-leaders.
The winners of the seven European groups automatically qualify, with the best four runners-up facing each other in play-offs for the final berth.