Manon Carpenter retains mountain bike lead with one race remaining
Last updated on .From the section Wales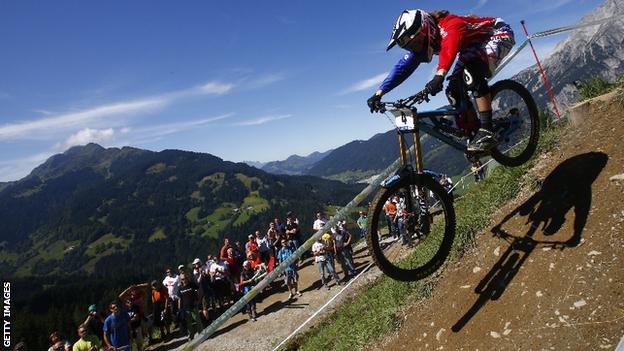 Manon Carpenter will go into the final round of this year's mountain bike Downhill World Cup series with a 70 point lead.
The 21-year-old from Caerphilly was fourth in the latest round in Windham, New York State.
The event was won by her closest rival Emmeline Ragot of France with Rachel Atherton second.
A top three place in the final round an Meribel, France, on 23 August, will give Carpenter the title.
The Welsh rider conceded on Radio Wales before the USA race that the Catskill Mountains course was her weakest in the seven race series.
She finished nine seconds behind Ragot, picking up 150 points to the winner's 250 and defending champion Atherton's 210.
Going into the final race, has 1180 points, Ragot has 1110, and Atherton 1060.