Manon Carpenter unlikely to play safe in final world title race
Last updated on .From the section Wales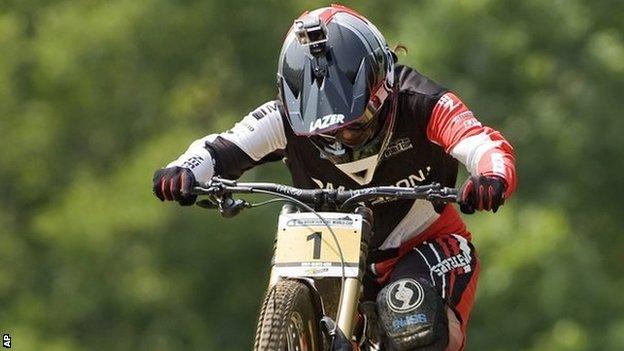 Manon Carpenter says she will not play safe in the final race of the mountain bike Downhill World Cup series.
The Welsh cyclist leads the series by 70 points with one race remaining in Meribel, France, on 23 August.
Third place should be enough to secure the title for the 21-year-old, but Carpenter wants to win the race.
"You can't say 'I'll have a safe run' and come down in third place because you never know who's going to go quick," she said.
"It's about winning. I'll go as fast as I can.
"You could be going safe and still have an issue, so no, I'll be going as fast as I can and to win would be great as well.
"You don't want to win on a steady run so I'll be going all out."
Carpenter saw her lead cut after finishing fourth in the eighth round of racing at Windham in New York State on 9 August.
The event was won by her closest rival Emmeline Ragot of France with defending champion Rachel Atherton second.
While disappointed with fourth place, Carpenter is still confident going into the last round.
"I've still got the leaders jersey and they're still a few points behind me, so it's going to be exciting - or tense - come the last round," added Carpenter.
"I like where the last world cup race is being run, I think that track suits me.
"[But] It's not wrapped up at all and obviously anything can happen.
"But hopefully if I get a good run in and stay on my bike then I should be able to get the overall [title] hopefully."