Non Stanford confident of competing in 2015 after injuries
Last updated on .From the section Wales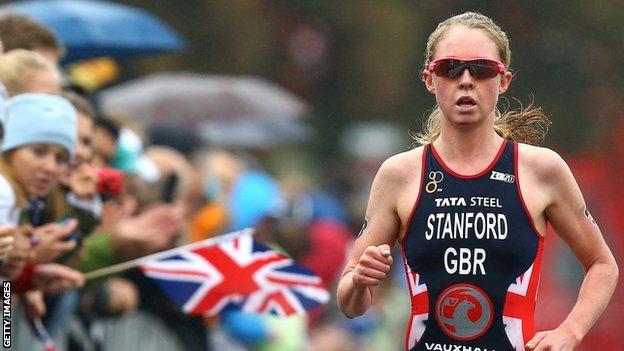 In her BBC Wales Sport column, world triathlon champion Non Stanford looks forward to challenging for a place at the 2016 Olympic Games in Rio de Janeiro after an injury-blighted year which meant she missed the Commonwealth Games.
I'm confident of going into next season in 2015 a lot fresher with a renewed vigour after the ankle injuries that have ruled me out of the major competitions in 2014.
I'm back in training and have now run 15 minutes continuously and it's going to be a very slow process to build back up to competitive fitness.
There are two rounds left in the triathlon world series this summer - in Stockholm and Edmonton - but there is no need for me to do them.
You have to be in five races and the Grand Final to have an overall ranking so there's very little that can be achieved in racing.
My next race should be in April 2015 - and that's when Olympic selection will start and, fingers crossed, I can achieve that.
The first ankle injury caused the one that followed because I tried to come back too quickly to try to make the Commonwealth Games in Glasgow in time.
It was a normal athlete problem - you think you know better than the physios and the coaches and I was going a little bit harder than I should have done.
Everyone says you come back stronger from injury, but having a year out has put a lot of things in perspective for me.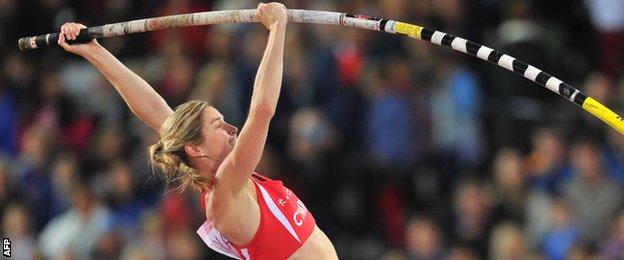 It's made me appreciate my sport a lot more. When I won the 2013 World Championships I had to learn to cope with new pressures; all the attention that comes with being a world champion.
It's not that I was previously lacking in motivation or whatever, but I'll just go in with a different perspective and appreciation of it.
I won't have raced for 18 months or more by the time I'm back in action so I'll be a bit nervous about blowing out the cobwebs again and getting back into the swing of things.
My ankle is, fingers crossed, recovered. I had scans that showed all signs of the injuries had cleared.
Unfortunately both injuries needed rest. I was on crutches for six weeks with both of them so that's 12 weeks in total.
And then you've got all the faffing around when you first come out of the boot, trying to strengthen up your foot and leg before you can do any sort of walking or then, of course, running.
Welsh gold at Glasgow 2014
Rhythmic gymnastics: Frankie Jones - ribbon
Judo: Natalie Powell- 78kg
Swimming: Jazz Carlin- women's 800m freestyle
Swimming: Georgia Davies- women's 50m backstroke
Cycling: Geraint Thomas- men's road race
I enjoyed working for the BBC in Glasgow and thought the Welsh athletes performed very well.
The crowd got behind all the British athletes and overall it was fantastic. Glasgow responded really well to hosting the games and that helped our own athletes to perform very well.
I was in the stadium when our pole-vaulter Sally Peake got silver. That was really cool - the crowd got behind her and it was a bit of an unusual event in the way it all played out with the rain.
Wales ended up with five gold medals - four of them won by women and the other by Geraint Thomas in the cycling road race.
I hadn't seen all the stats, but that's pretty impressive. The state of women's sport in Wales at the moment is very, very healthy.

We should all be proud that Natalie Powell won judo gold, Frankie Jones won the ribbon in gymnastics and Jazz Carlin and Georgia Davies came through in the swimming pool.
But I don't think there's any one reason why women would dominate in winning gold medals for Wales.
Women's sport in general, not just in Wales, is on the increase.
It's becoming a viable option to have a career in sport with equal pay and equal prize money being a factor.
But I don't think men are doing anything differently. It's just a coincidence that the women got most of the Welsh gold medals.
As for the women's world triathlon series, it's a bit of a foregone conclusion that Gwen Jorgensen of the United States will win it.
But like last year anything can happen in the Grand Final - and Gwen crashed out in it last year.
If Gwen is to be overhauled, Jodie Simpson would be favourite to take over. She's pretty consistent again so that's great for British triathlon.
*Non Stanford was talking to BBC Wales Sport's Gareth Roberts