India cricket fans promise carnival atmosphere in Cardiff
By Owen Rawlings
BBC Sport Wales
Last updated on .From the section Wales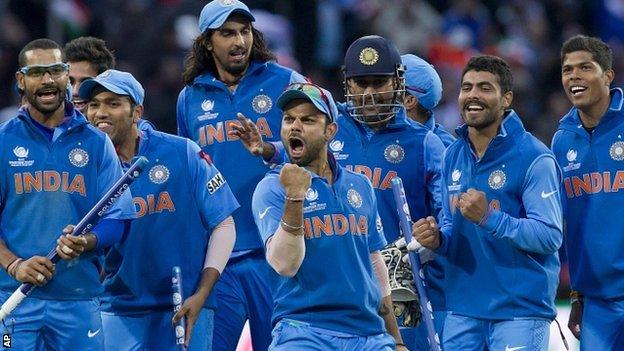 India fans in Cardiff are promising an electric atmosphere at the Swalec Stadium on Wednesday for the second one-day international against England.
The Swalec Stadium is no stranger to such fixtures. Last season, Glamorgan's home ground echoed to the sound of Indian klaxons as the Champions Trophy came to the Welsh capital.
Mahendra Singh Dhoni's side crashed 331 runs against South Africa in the opening game of the tournament and then thrashed Sri Lanka by eight wickets in the semi-final, before beating England by five runs in the final at Edgbaston.
The India fans who packed out the 14,600-capacity Swalec Stadium gave Cardiff some lasting memories.
"I went to all the games," said Siva Kollibara, who lives in the city centre and plays for Tesco's team in the third division of the Cardiff Midweek Cricket League.
"It was very exciting because the Indian team were playing very well at the time so we were very confident."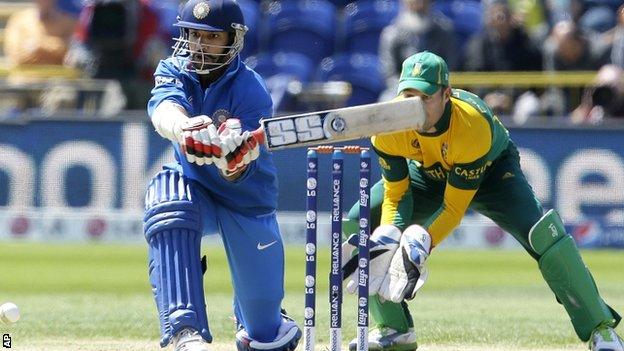 Team-mate Nitin Sood, from Fairwater, says Wednesday will be just as noisy: "We're hoping to have an electrifying atmosphere and a really Indian crowd.
"There are people coming from all over England and Scotland, and I know a few of my friends are coming from Birmingham and Bristol.
"India is a cricket-loving nation, that's why we're very noisy."
However, India's form this season could hardly be worse.
The tourists were thrashed inside three days in the final Test match of the summer as England recovered from their own struggles to wrap up the series 3-1.
There have been calls for Dhoni and head coach Duncan Fletcher to be sacked and former Glamorgan all-rounder Ravi Shastri has assumed overall control of the team for the five-match one-day series.
But India are reigning one-day World Cup champions and their fans remain optimistic of winning in Cardiff.
"They will do well because they've got a lot of youngsters," said Paras Jain, from Roath.
"India are a good one-day and T20 team, hopefully they'll smash the one-day series and maybe whitewash England."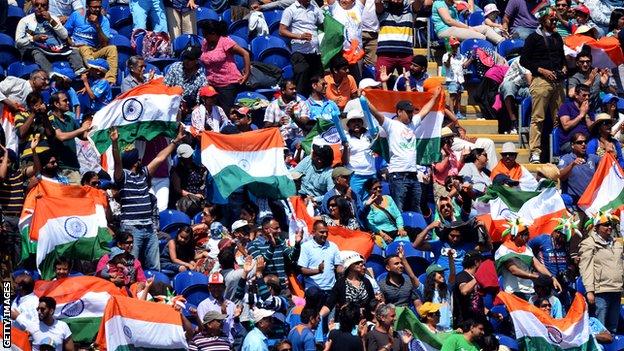 According to the 2011 census, nearly 8,000 Indians live in Cardiff and there is a sizeable Indian representation among the 27 teams in the Cardiff Midweek Cricket League, which has been running for nearly 50 years.
"Playing in the league and supporting our team is something exciting to do after work," said Sood.
"People over here like football but we love cricket."
Former India captains Shastri and Sourav Ganguly played for Glamorgan as overseas recruits, but Sood is disappointed that there are not any Indians born locally representing the county: "I'm a little disappointed...I want to see some people from India playing for Glamorgan.
"I hope to see that in the next few years."
For now, India fans must hope destructive opening batsman Shikhar Dhawan can rediscover his form from last year.
The 28-year-old was the leading run-scorer in the 2013 Champions Trophy and scored successive centuries against South Africa and West Indies.
However, the Sunrisers Hyderabad star was dropped for the final two Test matches this summer after scoring just 122 runs in the first three games.
England also beat India by six wickets in Cardiff in 2011, their only previous one-day clash in Wales.
But Kollibara believes Indians' support from the stands will galvanise their team: "Cricket is our passion, whenever we play we play for the win," he said, before adding that the outcome will mostly "depend on the rain and the weather."
Around 13,000 tickets have been sold for the match at the Swalec Stadium and Glamorgan chief executive Hugh Morris expects a fine spectacle.
"It is the biggest sporting event in Wales this summer," said Morris, who has offered fans who bought tickets for the rain-affected game in Bristol the opportunity to attend the one-day international in Cardiff instead.
"There will be millions upon millions of people watching this game around the world, particularly on the sub-continent.
"It's two of the best international cricket teams in the world, so it should be a great game."