Jade Jones wants repeat of Olympic taekwondo success
Last updated on .From the section Wales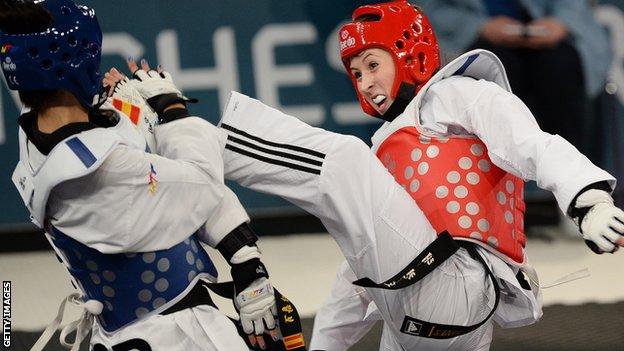 Welsh fighter Jade Jones says she wants to dominate the sport of taekwondo.
Now Jones is preparing for October's World Taekwondo Grand Prix in Manchester, the city she is based in.
"It's not just one Olympic gold medal I want to achieve, it's two or three - I want to become a legend in my sport," she said.
The Grand Prix carries ranking points for Rio 2016 qualification and Jones will be hoping to go one better than the silver medal she won in Astana, Kazakhstan, in August.
"I was feeling really sharp as well so I was gutted to not come away with the gold but I'm chuffed with my improvement," she said.
Manchester also presents Jones with the opportunity to fight in front of a partisan crowd.
"It's amazing to compete in your home town, especially all my family and friends - who normally can't afford to fly all across the world - get to come and see me so that gives me an extra buzz and motivation," Jones added.
Jones is aiming for her first success in the Grand Prix series after the first competition in Manchester in December 2013 saw her lose out to Spain's Eva Calvo Gomez, followed by a quarter-final defeat by Korea's Sohee Kim in China in July.
This leaves Manchester, then Queretaro in Mexico in December for her to secure a Grand Prix gold.