Ryder Cup: Ian Woosnam on Welshmen in the Ryder Cup
By James Pontin
BBC Wales Sport
Last updated on .From the section Wales
2014 Ryder Cup on the BBC
Venue:
Gleneagles, Scotland
Dates:
26-28 September
Start times:
07:35 and 13:15 BST on Friday and Saturday and 11:36 BST on Sunday.
Coverage:
Live radio and text commentary on BBC Radio 5 live, online, tablets, mobiles and BBC Sport app. Highlights on BBC Two.
Ahead of the 40th Ryder Cup at Gleneagles, eight-time player and victorious 2006 captain Ian Woosnam gives his rundown on the men who have flown the flag for Wales in the tournament.
Bert Hodson:
Record: 1 Ryder Cup (1931) 1 Match, Won 0 - Lost 1 - Halved 0
Hodson became the first Welshmen to play in a Ryder Cup when he represented Great Britain in the third outing of the Ryder Cup in 1931 at Scioto Country Club in Ohio.
Woosie on Hodson: "Hodson was selected for the team after playing in a trial match. He played in just one game, losing his singles match to Densmore Shute who went on to win The Open in 1933.
"I wasn't born back then but his record in the singles matches sounds about as good as mine….not good! The USA won this Ryder Cup 9-3."
Dave Thomas
Record: 4 Ryder Cups (1959, 1963, 1965, 1967) 18 Matches, Won 3 - Lost 10 - Halved 5
Thomas was one of the leading golfers of the 1950s and 60s, playing in four Ryder Cups and losing just one of his singles matches.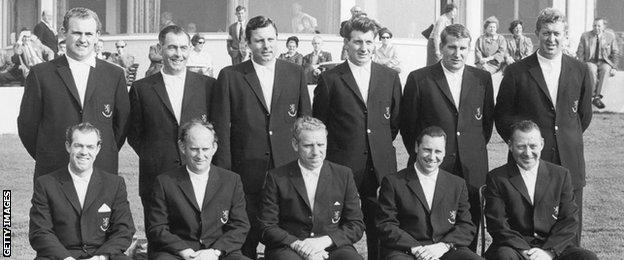 Woosie on Thomas: "Dave was a gentle giant and a real character. He was unbeaten in 1959 beating Sam Snead 6&5 in his singles.
"He was a great ball striker, but his chipping was shocking. I remember a time when he was taking a chip and he took a massive divot, when the ball landed on the green it was still on top of that same divot… that's how bad a shot it was!
"I spent a lot of time which him and his son over the years. He was also an excellent course architect and the man responsible for the design of the Brabazon course at The Belfry."
Brian Huggett:
Record: 6 Ryder Cups (1963, 1967, 1969, 1971, 1973, 1975) 4 Matches, Won 8 - Lost 10 - Halved 6
As well as playing in six Ryder Cups, Brian Huggett was also a non-playing captain in the 1977 event held at Royal Lytham & St Annes Golf Club - the last time the event was contested between GB+I and the USA.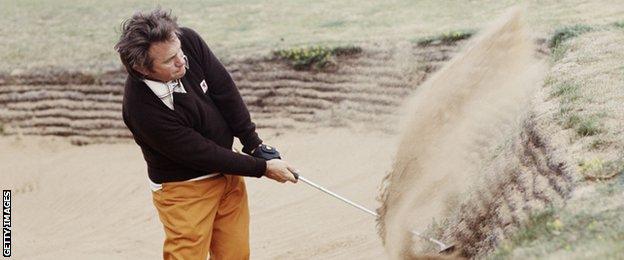 He was instrumental in getting the Americans to agree to allow players from continental Europe to participate in the Cup from 1979 onwards, and was an ambassador for the bid that brought the Ryder Cup to Wales in 2010.
Woosie on Huggett: "The Ryder Cup would have died if they hadn't changed it to Europe v US. Brian was tenacious and had a terrific fighting spirit - exactly what you need in the Ryder Cup.
"He and Maurice Bembridge recorded a famous win over Arnold Palmer and Jack Nicklaus, but what I remember is how he misjudged the score in one of his other matches.
"In 1969 at Birkdale he thought he'd won the Ryder Cup when he sank a five-foot putt against Billy Casper.
"He'd heard a roar on the hole behind him so he thought that Tony Jacklin had beaten Jack Nicklaus, but he hadn't - it was a massive putt to draw level.
"Nevertheless Europe, thanks to Brian's five-footer, went on to secure an unprecedented tie against the US."
Dai Rees
Record: 9 Ryder Cups (1937, 1947, 1949, 1951, 1953, 1955, 1957, 1959, 1961) Record: 17 Matches, Won 7 - Lost 9 - Halved 1
Dai Rees has played in more Ryder Cups than any other Welshman. He also captained the side on five occasions - the most famous being at Lindrick Golf Club in 1957 where he masterminded the USA's only defeat in the competition between 1933 and 1985.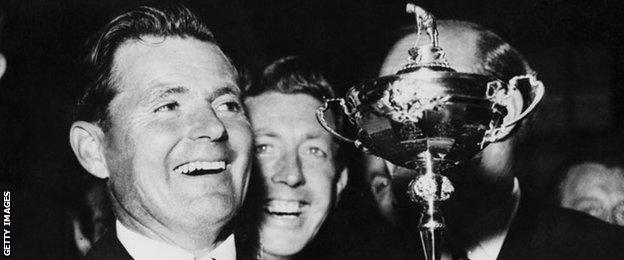 Woosie on Rees: "He was a tremendous player and had a great record in a period when we just couldn't beat the USA.
"He'd left a crate of champagne with a note on it which said that it wasn't to be opened until Europe had beaten the USA again.
"When I won it in 1985 at the Belfry we opened it and really celebrated - I'll never forget Sam Torrance crying on the 18th!"
Phillip Price
Record: 1 Ryder Cup (2002) 2 Matches, Won 1 - Lost 1 - Halved 0
Phillip Price represented Europe in the 34th Ryder Cup, held at the Belfry. The event was originally scheduled for September 2001, but was postponed one year due to the September 11 attacks. He played in two matches, famously beating Phil Mickelson 3&2.
Woosie on Price: "I was one of Sam Torrance's vice-captains and remember saying to him in the morning that he had nothing to lose in his singles game against Mickleson.
"I told him to just go out and play his own game, hit the fairways and make the putts.
"I was standing on the 16th when he sunk the putt to win the match - I had a tear in my eye for him when he famously punched the air in victory, I was so pleased for him, he did Wales proud that day."
Jamie Donaldson
Record: Ryder Cup 2014 - debut
Donaldson will be making his debut at Gleneagles, becoming the seventh Welsh golfer to play in a Ryder Cup. He was an automatic selection in Paul McGinley's team.
Woosie on Donaldson: "When I first played with him about four years ago and though he was just solid, but since then he has turned himself into a great player.
"His swing is good, he's got the bottle and has a nice putting stroke. He's a confident player and that's what you need in a Ryder Cup team so Paul McGinley will be able to pair him with anyone.
"He's going to be very nervous on the first tee, but he might not play in a Ryder Cup again so he has to go out and enjoy himself.
"I watched him play in the Euro Asia Cup earlier this year where he was unbeaten - I hope he can do it again up in Gleneagles."
Ian Woosnam
Record: 8 Ryder Cups - (1983-85-87-89-91-93-95-97) Record: 31 Matches, Won 14 - Lost 12 - Halved 5
Ian Woosnam played in eight consecutive Ryder Cups between 1983 and 1997. He was a victorious captain at the K Club in 2006. He played in 31 matches (tied eighth), won 16.5 points (ninth best) with a win ratio of 53.23% (eighth best) and along with José Maria Olazábal has secured the most four-ball points for Europe.
Woosie on Woosie: "I've been involved in the Ryder Cup for a long time but it still excites me.
"You make the team because you've been playing well. I always liked being the underdogs against the Americans.
"You don't play for money, you play for pride and for the team - that's what makes it so special. I've never been as nervous as when playing in the Ryder Cup.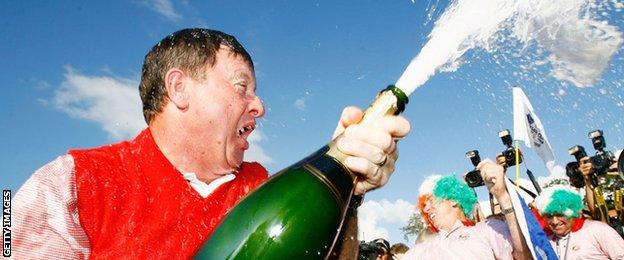 "When I made my debut in 1983 I remember shaking on the first tee. I had been drawn alongside Sam Torrance in the afternoon four balls and when I stood there I thought I was going to be sick - I kept looking at the bush to the side thinking that I was going to have to go in there!
"Sam told me not to worry - but he went and hit his first shot out of bounds so I felt even worse! It doesn't matter how experienced you are the butterflies are incredible, you can play at the Masters or the Open but it can't prepare you for the Ryder Cup - that's when you become a great player.
"My most precious Ryder Cup memory was 1987 when we played at Muirfield Village in the US. Jack Nicklaus was the American captain on a course which he had designed.
"He had set it up in a way which he thought would give Europe no chance of winning ... but we did and it was the first time we had ever won in America. That was really special for me."