Ryder Cup 2014: Win has not sunk in - Jamie Donaldson
Last updated on .From the section Wales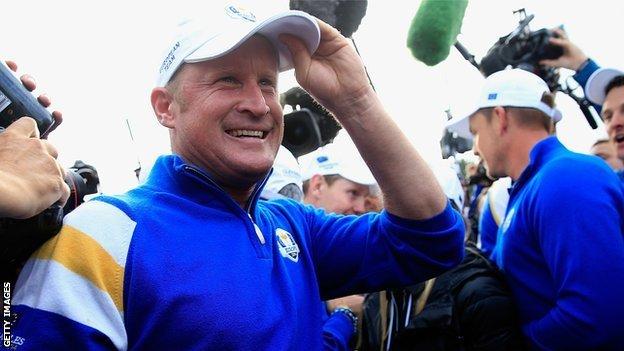 Wales' Jamie Donaldson says earning the point that won the Ryder Cup "has not sunk in yet".
"It's incredible," he told Radio Wales Sport on Monday evening.
"What an amazing week. For me, I played really well from the go and the team spirit was fantastic."
Donaldson picked up three points from a possible four, claiming two foursomes matches alongside Lee Westwood, by contrast playing in his ninth Ryder Cup.
The Pontypridd-born player qualified for the European team by winning the Czech Masters on 24 August - the penultimate qualifying tournament.
Donaldson began to realises the significance of his encounter with Bradley as fans gathered in greater numbers.
"It was quite quiet and as we turned onto 12-13, the crowd seemed to double every hole," he said. "By the time we got to the 14th tee it was absolutely chocka. There were cameramen everywhere.
"There was thousands of people on the hole and I knew then it was going to be tight.
"So I didn't know to the exact point of how close it was.
"I was trying not to look at the scoreboard and just do my job and win my point.
Europe's singles winners
Graeme McDowell beat Jordan Spieth 2&1
Rory McIlroy beat Rickie Fowler 5&4
Martin Kaymer beat Bubba Watson 4&2
Sergio Garcia beat Jim Furyk 1 up
Jamie Donaldson beat Keegan Bradley 4&3
"So I just kept my head down, kept hitting good shots and in the end it was enough to bring the Ryder Cup home."
Donaldson said the party that followed left him feeling worse for wear.
"It was just a standard party after the Ryder Cup as you can probably imagine," he said.
"It was very big, but I'm still feeling very rough now so there won't be another one for quite a while."
In the immediate aftermath of the victory, Donaldson spoke of the remarkable journey that took him from the second-tier Challenge Tour in 2007 to helping Paul McGinley's Europe take the glory at Gleneagles.
Donaldson's emergence after winning the Irish Open in 2012 is in contrast to the early part of his career when he struggled with a chronic back problem.
He was even told in 2004 by one doctor to quit the game.
His perseverance paid off when, with Europe needing a point to clinch the trophy, the focus of the golfing world fell on his match with Bradley.
Donaldson initially made sure Europe would retain the trophy by guaranteeing half a point against Bradley by holding a four-hole lead with four to play.
But he then sealed outright victory in style, hitting his approach to the 15th to within inches of the hole and prompting the captains to shake hands before he had reached the green.