World to see Cardiff at its best in 2016 - Dave Bedford
Last updated on .From the section Wales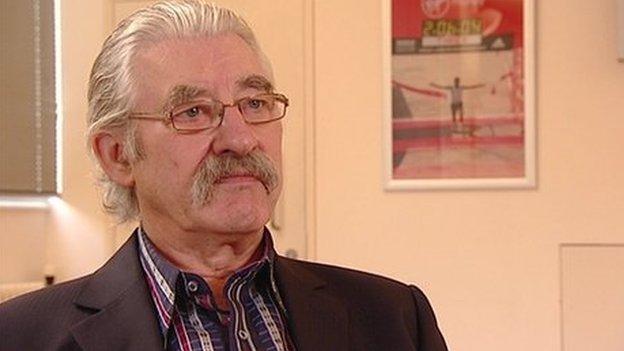 Athletes will see "Cardiff at its best" at the 2016 World Half Marathon Championships, says former 10,000m world record holder Dave Bedford.
"I've seen nothing that gives me any concerns about the Cardiff's ability to put on a great Worlds," said Bedford.
He is the International Association of Athletics Federations' (IAAF) road running commission chairman.

Cardiff hosts the World Championships in March 2016 and Bedford praised the Welsh course.
The former Olympian told BBC Radio Wales "It's a flat course, it's a fast course. There were great crowds and an absolutely wonderful start area.
"It has Cardiff Castle in the background and the finish here as well makes it look great.
"I think we'll see a lot of athletes come back for this event next year to try the course out."
Kongin's winning time of 62 minutes, two seconds was not fast enough to beat the course record of 61:51, set by Loitarakwai Lengurisi in 2013.
Ieuan Thomas, 25, finished in a time of 65:37, making him the first-placed Welshman and third-placed British runner.
Thomas, running his first half marathon race, said the atmosphere around Cardiff was "electric".
"It was just a case of sticking to the gameplan, making sure I paced myself right and enjoyed the atmosphere," said Thomas.
"I really wanted to be a part of that so it was such a great experience to be out there and feel the atmosphere of the crowd.
"The course is fantastic. The crowd were amazing. Just as you're starting to get tired, you come to another section of big crowds and they really boost you.
"I'm hoping I can come back next year and the year after, and we'll see how things go with the World Half Marathon here in 2016."
Joan Chelimo won the woman's race in a time of 72:26, some way off the course record of 71:10, set by Susan Partridge in 2012.
Chelimo, 25, revealed that this was also her first time running the Cardiff course, and praised the conditions that allowed her to achieve a personal best.

"The conditions were very nice - the race was very nice," said Chelimo.
"As we were running, the crowd was cheering us.
"We felt tired at some points, but the support from the crowd made us feel strong.
"The course is so flat and, when you have a strong field and favoured by the conditions, you can run good times.
"I don't think there's another course like Cardiff in Britain."