Lynn 'the leap' Davies remembers Olympic gold - 50 years on
Last updated on .From the section Wales
Lynn Davies has revealed how an overheard comment by then world-record holder Ralph Boston during the 1964 Olympic long jump final in Tokyo inspired him to claim the gold medal.
"I heard Ralph say 'I don't think anyone will jump eight metres today'. I thought I had a chance," said Davies.
Boston replied: "If I'd known you were listening I wouldn't have said it."
Davies jumped 8.06m in the fifth round on 18 October, 1964 in Tokyo to take a lead which defending champion Boston just failed to match with his final round jump of 8.03m.
The 72-year-old president of UK Athletics remains the only Welsh athlete to claim an individual track and field gold at the Olympics.
Boston, 75, was the joint world-record holder with Soviet Union athlete Igor Ter-Ovanesyan and a strong favourite to retain the Olympic crown.
But the athletes were met with cold, wet and windy conditions which suited the Welshman.
"It was rainy, rainy, rainy," Boston told BBC Radio Wales.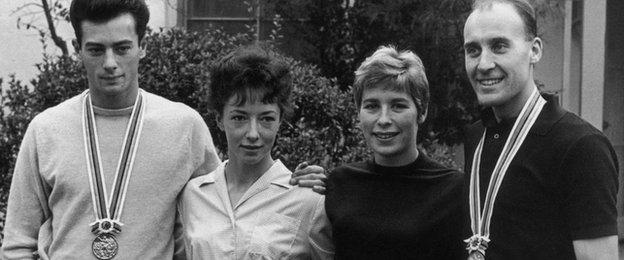 "When it rained in America I tried not to go out in it so I wasn't prepared for it. It was one of the most horrendous days I've ever competed it.
"But I always said it behoved a champion to take advantage of whatever's there and that's what you [Davies] did and all the best to you for doing it."
Davies said the comments he overheard Boston making to a team-mate about the weather were an inspiration on the day.
"I'd looked up to Ralph and Igor as unbeatable - they were my heroes," he added.
"But when I heard Ralph say that I realised the conditions were tough for them too and I thought I had a chance because I'd jumped eight metres back home in Wales in similar conditions."
Davies' gold was the last won by a British man in an Olympic long jump until Greg Rutherford claimed the title in London 2012.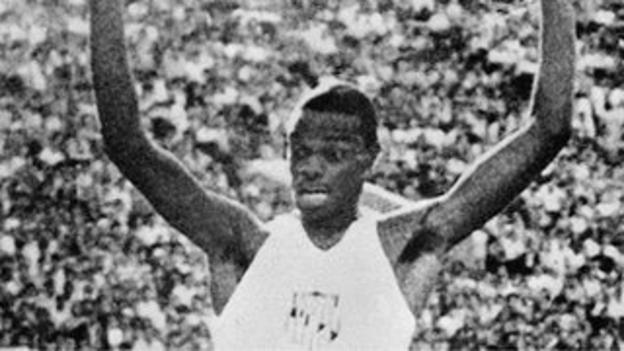 Mary Rand also won long jump gold in Tokyo in 1964, and Davies said her success on the first day of track and field competition was an inspiration for the rest of the team.
"I remember that night she came to the canteen, put the gold medal on the table and said 'there you are, I've done it, now you go and do it'," said Davies.
As well as Rand and Davies, Ann Packer (800m) and Ken Matthews (20km walk) were also gold medallists for Britain that year.
Davies' was beaten in the 1968 Olympics in Mexico when Bob Beamon leapt 8.90m - smashing the world record - with his first jump.
He told BBC Radio Wales Sport he did not feel at the time it was a winning jump.
"I really felt I would probably own this record for only a couple of minutes because I had you [Lynn Davies] coming behind me, I had Igor and I had Ralph Boston coming behind me.
"So I was saying 'it's good to own a record for a short period of time' and I thought 'I can't see what the rest of the guys are going to do'."
Davies added: "I remember Bob asking me if he should jump again.
"I told him to go and sit in the stand and enjoy the rest of the tournament because no-one was going to beat him."