Welsh hurdler David Omoregie can win Olympic medals - Matt Elias
Last updated on .From the section Wales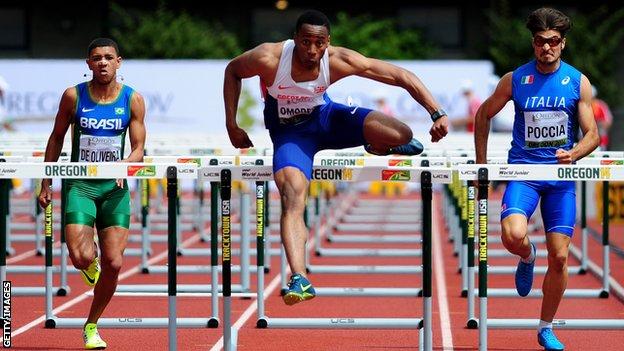 Welsh 110m hurdler David Omoregie can win Olympic medals according to former Great Britain and Wales athlete Matt Elias.
Omoregie, 18, won bronze at the World Junior Championships in July 2014 in a time of 13.35 seconds.
Elais, Welsh Athletics' new national performance centre coach, says Omoregie's "potential is limitless".
"I can honestly see David going on and doing very big things on the world stage," Elias said.
"Possibly being in Olympic finals, winning Olympic medals.
"We don't have many people on this planet who are gifted as David is.
"He is one of the most intelligent, down-to-earth guys that I've met, especially at 18 years of age."
Matt Elias medals

1998 Commonwealth Games

Bronze

4 x 400m

2002 Commonwealth Games

Silver

4 x 400m

2002 Commonwealth Games

Silver

400m hurdles

2002 European Championships

Gold

4 x 400m
The World Junior Championships in Oregon, in the United States, was Omoregie's first major event as a specialist sprint hurdler since turning from the decathlon.
In qualifying for the semi-final, the Cardiff Athletics Club athlete ran the third fastest time in the history of the championships in 13.24 seconds.
Omoregie has been compared to Wales great Colin Jackson, the former world 110m hurdles record holder.
Elias, who is responsible for providing support in Wales to coaches and elite athletes, believes the teenager has what it takes to fulfil his potential.
"He has that physical potential and he has the awareness of his potential as well and he's surrounded himself with good people," said Elias.
"With his coach, Mike Guest, he has decided to stay in Cardiff, which I think is a big thing for Welsh athletics.
"We've managed to keep one of our best athletes in Wales and we can nurture him and develop his talent here.
"I'm offering support to Mike and to David with their coaching over the next few years.
"Hopefully we'll see some big things and he can keep on the tradition of world-class hurdling in Wales."