Athletics: Dai Greene coach split could help, says Matt Elias
Last updated on .From the section Wales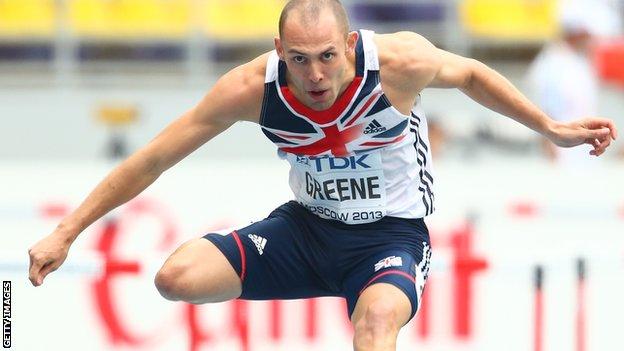 Former world champion hurdler Dai Greene's split from coach Malcolm Arnold could be for the best, according to former 400m hurdles athlete Matt Elias.
Elias, 35, the new Welsh Athletics national performance centre coach, believes Greene has made the correct decision.
"The time was right," Elias said.
Greene, from Llanelli, has been troubled by injuries since winning the world 400m hurdles title in 2011 and lost his Commonwealth crown in Glasgow.
After five years based at the University of Bath, the London Olympics 2012 Team GB captain paid tribute to Arnold in September but said it was time for a "change".
"He's [Greene] had a fantastic few years with Malcolm Arnold and a massive amount of success early on," said Elias, who retired in 2010.
"He has just been riddled with injuries the last couple of years and I just think Dai was at the point where he needed a change of environment.
"He needs just to get his body back into a place where he is confident that he can actually start putting some training together... and that his body is not going to break down on him.
"Sometimes just a change of environment and a fresh outlook on things is what you need for that.
"I think the split with Malcolm was very amicable and I think it was the right time for Dai to try and make this change."
In 2002 Elias won individual and relay Commonwealth silvers for Wales and gold as part of the Great Britain 4x400m relay team at the European Championships.
He is now responsible for coaching elite athletes at the centre in Cardiff and believes the "fresh outlook" could give Greene a new lease of life.
"Dai's still under 30 years of age and he's still got a few good years left in him," Elias said.
"It wouldn't surprise me if we saw Dai get back to his best over the next few years and really challenge back at the world level, at the next Olympic Games in Rio and then on to the [Commonwealth Games] Gold Coast in 2018."