Nicole Cooke says demand can bring sportswomen pay equality
Last updated on .From the section Wales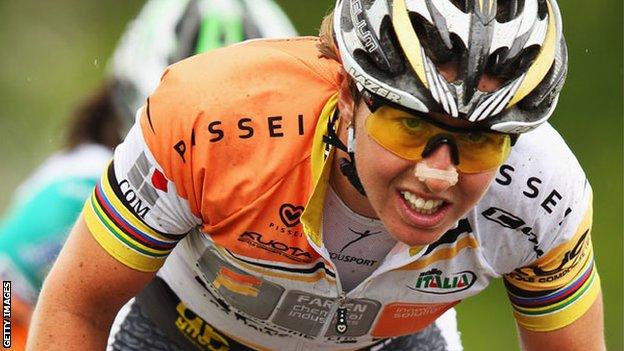 Nicole Cooke has called for change after a BBC study found 30% of sports reward men more highly than women.
And the retired former world and Olympic cycling champion said the percentage "seems extremely low".
Cooke, 31, told Radio Wales Sport there is no reason parity could not be achieved, driven by popular demand.
"The public have a fantastic voice which is now being heard with social media and that I think is something that will bring change," she said.
"And with the federations, it's just a case of re-writing some of these rules and things can be sorted out straight away.
"I would even say that 30 per cent of sports having unequal prize money seems extremely low.
"There were some rules that were brought in due to some of the public pressure to have equal prize money but even then it's not across all of the disciplines."
A total of 56 global sports were looked at in the extensive study.
Out of 35 sports that pay prize money, 25 pay equally and 10 do not. Fourteen sports, including rugby union and hockey, do not pay any prize money at all.
Five sports did not provide information for the investigation and men and women compete alongside each other in horse racing and equestrian.
Athletics, bowls, skating, marathons, shooting, tennis and volleyball have all paid equal prize money since before 2004.
In the past decade, nine more sports have starting doing so with five - diving, sailing, taekwondo, windsurfing and some cycling events - achieving equality in the past couple of years.
Cooke retired in January 2013 after a glittering career which saw her become the first woman to complete the Olympic and World Championship road race double in the the same year.
Since then the Welshwoman has been an outspoken critic of sexism and drug use in cycling, and has just published an autobiography.
While acknowledging improvements have been made, Cooke feels sport still has a long way to go with sponsors, the media and governing bodies all needing to change their attitudes.
Sponsors, she feels, should not invest in sport or events which do not comply to standards of equality their own businesses would have to meet by law.
"Sponsors and lot of corporations [have] got their codes of governance where they're not going to discriminate on gender ... and yet when it actually comes to the operational level of sports they're sponsoring and what decisions are actually made those prejudices are actually coming through," she said.
Nicole Cooke on media attitudes to gender:
"Referring to most female sports stars, most articles about them start off with 'what Serena Williams is wearing' of all things, or what does Jessica Ennis' bum look like in her dress at the Sports Personality [of the Year awards]. The media that portrays athletes in those terms, rather than their sporting prowess or their athletic ability, does have a factor in this whole argument. So yes the media plays a huge role and the BBC - again, public funded - there's a lot more that could be done to address that."
"I think Flora has to be commended for walking away from certain sport sponsorships to actually sponsor the London Marathon, which is equal distance [for men and women] and it's equal prize money and it fits with the brand and the image and it's a success story for them."
Cooke believes all sports that receive public funding should provide equal prize money for men and women.
She also feels there should be no difference in distances or durations for men's and women's events - because that "reinforces the idea of the superiority of men over women."
"With the federations, can't we just do the basics of national championships equal prize money and particularly the federations that are receiving public finds," she said.
"At the end of the day if the races in cycling were 100 miles each, just get on and race we would have a brilliant race for the men a brilliant race for the women and it would be the same entertainment, the same action-packed race.
"It just reinforces the [perceived] superiority of men over women - so triathlon is a brilliant example [with] equal distances.
"Athletics pretty much equal distances - heptathlon and pentathlon, they could sort that out if they wanted to.
"And in cycling in some of the shorter track events there's a 1000m time trial [for men] and a 500m time trial is the women's equivalent race - it's ridiculous, it really is."