Nathan Cleverly v Tony Bellew: 'Hate' and history define fight
By Dafydd Pritchard
BBC Wales Sport
Last updated on .From the section Wales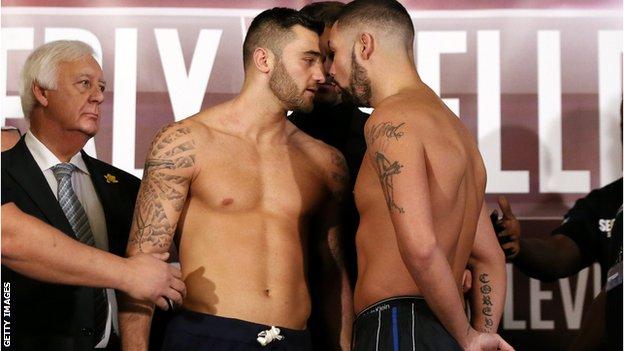 Nathan Cleverly v Tony Bellew
Venue:
Echo Arena, Liverpool
Date:
Saturday, 22 November
Coverage:
Live text commentary on the BBC Sport website, BBC Radio Wales BBC 5 live sports extra 19:30-21:00 GMT and BBC Radio 5 live 21:00-00:00 GMT
As Nathan Cleverly addresses the media for the last time before his rematch with Tony Bellew, his opponent sits two seats away wearing headphones, nodding silently, seemingly oblivious to Cleverly's comments.
Whether it is a declaration of psychological warfare or simple playground kidology, boxers will use any tactic necessary to unnerve an adversary.
Fighting talk is a prerequisite for any bout but, when Cleverly and Bellew have engaged in verbal jousts, the insults have been laced with genuine ill feeling.
Bellew has repeatedly stated he "hates" Cleverly and, although the Welshman has refused to use the same word in return, his antipathy for the Liverpudlian is plain.
THE HATE
Hate, as both Cleverly and Bellew have said themselves, is a strong word.
Although boxers often clash - sometimes physically - before they confront each other in the ring, there is seldom genuine hate.
That is where this fight is different.
"I absolutely despise him," says Bellew.
"Hate is a very strong word. There aren't many people in the world I genuinely hate, and he is one."
Bellew's face contorts at the very mention of Cleverly's name.
Animated, agitated and quick-witted, Bellew is in his element as he holds court and mocks his nemesis.
Cleverly, by contrast, is languid, almost indifferent in his assessment of the juggernaut of aggression coming his way.
"Hate is a strong word. I don't want to waste that emotion on him," says Cleverly.
"I dislike him, he's a horrible guy."
His delivery may be cool, subtler than the bellicose Bellew, but there is no denying the disdain is mutual.
THE HISTORY
Saturday's rematch at the Liverpool Echo Arena is a culmination of three years of loathing, of wanting to set the record straight.
When the two men met at the same venue in 2011, Cleverly was the narrow winner on points of a bruising, disjointed bout to retain his WBO light-heavyweight world title.
Bellew felt he had done enough for victory in front of his home crowd, and the Everton football fan has been itching to avenge that defeat since.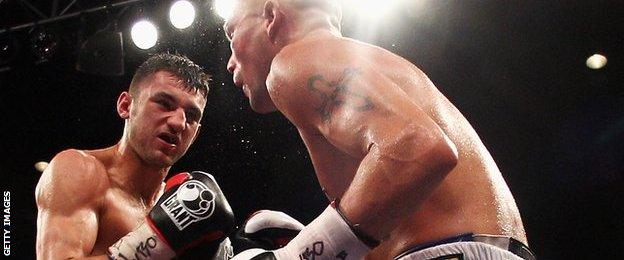 "It's built and built and built, and it's on the verge of getting out of hand," Bellew says of their rivalry.
"Something will be done about it on Saturday.
Cleverly eventually lost that title to Sergey Kovalev in 2013, prompting a deep introspection which almost led to retirement.
The 27-year-old decided to continue and move up a division to cruiserweight, where he was soon joined by Bellew. It was inevitable their paths would cross again.
Promoter Eddie Hearn
"It's not a pleasant rivalry. This is pure hate."
THE STAKES
The precarious nature of a boxer's career is brought into sharp focus on occasions like these.
Cleverly and Bellew, 31, have both said the loser of their rematch will have to consider retiring, which seems remarkable when considering Bernard Hopkins fought for a light-heavyweight unification at the age of 49 in the same month.
"It applies to both of us," says Cleverly.
"Losing is not an option. I can't allow this guy to beat me.
"When I make it 2-0 against this guy, he's going to have to walk away."
Cleverly is unflinching as he assesses the challenge ahead, and Bellew is not one to blink in a staring contest.
"It's a big, big fight. You could say it's make or break," he says.
"For me, the only thing I'm contemplating is which rope to jump on once the referee has to save him."
Although there is much to lose on Saturday, neither boxer is looking down.
The winner, after all, will have the opportunity to fight for a cruiserweight world title.
However significant the prize may be, however, there can be no bigger incentive than to win the fight itself, to settle the grudge.
"There's too much on the line. This is a fight built on emotion," says the man in the middle of the duel, promoter Eddie Hearn.
"It's not a pleasant rivalry. This is pure hate."