Wales Sports Personality award in global year for Welsh athletes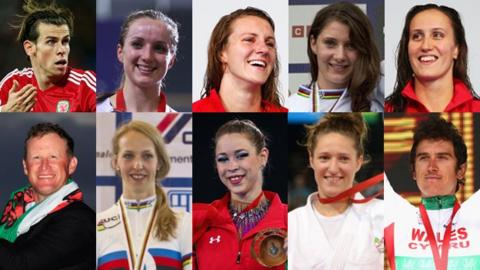 Wales Sport Awards 2014
Venue:

Sport Wales National Centre

Date and time:

Monday, 8 December from 19:30 GMT

Coverage:

Awards ceremony shown live on bbc.co.uk/sportwales from 19:30 GMT; Live reports on BBC Radio Cymru & BBC Radio Wales; announcement on BBC One's Wales Today and S4C's Newyddion.
As 2014 draws to a close, and the contenders for BBC Wales Sports Personality are revealed, history will have ample justification for judging it as the year Welsh sport went global as never before.
For the best, of course, pushing back the frontiers in pursuit of excellence is nothing new.
Tommy Farr made the long haul from Tonypandy to New York in August 1937 when he brought the country to a standstill by taking Joe Louis the distance and very nearly the American's world heavyweight title as well.
Lynn Davies made his own equally long haul, from Nantymoel to Tokyo, and came home with Wales' first track and field Olympic gold. Fifty years on, it is still the only one.
And yet 2014 deserves to be acknowledged as unique because more Welsh performers went out and played decisive roles in winning events which in turn gripped Europe, the United States of America and the Commonwealth.
Wales award contenders
*Full details plus terms and conditions
Gareth Bale (footballer)
Jamie Donaldson (golfer)
Elinor Barker (cyclist)
Rachel James (cyclist)
Jazz Carlin (swimmer)
Frankie Jones (rhythmic gymnast)
Manon Carpenter (mountain biker)
Natalie Powell (judoka)
Georgia Davies (swimmer)
Geraint Thomas (cyclist)
No Welshman had ever scored the winner for Real Madrid in the Copa del Rey final against Barcelona, or anyone else for that matter, until Gareth Bale did so last April.
He ran from halfway on the left touchline, veered off the pitch and almost had time for a lap of the technical area before hurtling clear of his marker. The goal may have beggared belief but suddenly the watching world understood why Real made Bale the most expensive footballer in history.
A few weeks later another gifted young Welshman, Aaron Ramsey from Caerphilly, scored the extra-time winner for Arsenal against Hull in the FA Cup final, the first by a Welsh footballer in the final since Ian Rush for Liverpool against Everton in 1989.
Ramsey's importance to Arsenal was such that the cognoscenti claimed that had injury not taken a chunk out of his season, the Gunners might conceivably have won the Premier League to boot. That he fails to make the ten nominees for the BBC Cymru Wales Sports Personality of the Year is a surprise but it can be taken as a sign of the ferocity of the competition.
In high summer at the Commonwealth Games, Glasgow truly belonged to Francesca Jones, better known as Frankie.
Having carried the Welsh flag, the rhythmic gymnast led by example, winning not just gold and multiple silver but a special award as the outstanding athlete of the Games.
Still the Welsh were far from finished on the grand stage.
In his first Ryder Cup at the age of 38, Jamie Donaldson rose to the occasion with the shot of his life, a wedge from almost 150 yards which landed within inches of the pin and finished off his American opponent, Keegan Bradley.
More significantly, it made golf's most famous team trophy safe in European hands for another two years. Not for nothing did Europe's captain, Paul McGinley, acclaim Donaldson as "sensational".
Welsh impact on individual sport in Europe did not end there. Geraint Thomas wore the yellow jersey after stage four of the Paris-Nice cycle race in March, a 200 kilometre ride through the rolling hills of Burgundy. He might have won it had he not crashed.
Thomas recovered to strike gold in Glasgow and who's to say that one day he won't win the biggest one of all, the Tour de France?
Panel judging Sports Personality
Nigel Walker, former Olympian and Wales rugby international.
Baroness Tanni Grey-Thompson, former Paralympian and three-time BBC Wales Sports Personality of the Year (1992, 2000, 2004).
Jayne Ludlow, former Wales international footballer and current manager of Reading FC Women.
Non Evans, former Wales international in four disciplines - rugby union, judo, weightlifting and freestyle wrestling.
Christian Malcolm, Commonwealth Games silver and bronze medalist.
As a nation, the Welsh have invariably punched above their weight in all manner of sporting theatres. Now they are doing so in cycling on a mob-handed scale as reflected by the nomination of Elinor Barker and Rachel James alongside Thomas.
Barker from Cardiff is only 20 but already her CV glistens with gold, silver and bronze, with team golds in the World and European Track championships, plus the World Cup and the Great Britain event,
James, part of the cycling dynasty from Abergavenny and sister of double world champion Becky James, won four golds this year at the Paralympic World and British championships. She then teamed up with Thornhill later in the year to pick up two more golds at the British National Track Championships.
It can be safely said that all 10 contenders for this year's title glisten with gold. In the pool at the Commonwealth Games, Jazz Carlin and Georgia Davies won swimming golds which were all the sweeter for the fact that Wales hadn't won one for 40 years.
Overcoming illness and injury plus her coach moving to Australia, Carlin first picked up two golds in the European Long Course Championships.
Then she became the first Welsh female swimmer for 40 years to win aquatics gold in the Commonwealth Games in the 800m freestyle, followed by silver in the 400m a day later.
As for Davies, three days after claiming a silver medal in the 100m backstroke, the 23-year-old went one better by winning gold in the 50m backstroke.
Natalie Powell from Builth Wells won Wales' first judo title in Commonwealth history, defeating London 2012 silver medallist Gemma Gibbons in the final. Powell also went on to win gold at the World Grand Prix in October.
And just to show that the country doesn't only produce world-beating track cyclists, Manon Carpenter from Caerphilly struck gold at the Mountain Bike Downhill World Championship.
Carpenter also won the the Mountain Biking Downhill World Cup, only three years after she won the junior equivalents in 2011.
For once, the rugby players found the competition too hot to handle. None of them convinced the judging panel chaired by Nigel Walker that they were worthy of nomination, which was tough on Leigh Halfpenny and Alun Wyn Jones.