Wales Sport Awards: The rising stars who shone for their country
Last updated on .From the section Wales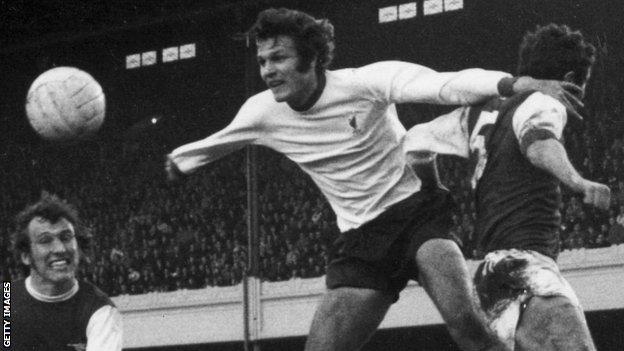 Some of the biggest names in Welsh sporting history were first recognised as stars of the future by winning what is now known as the Carwyn James Junior Sportsman and Junior Sportswoman award - with the 2014 winners unveiled on Monday, 8 December.
James was a former Wales fly-half who went on to coach the 1971 British and Irish Lions on their historic Test series win over New Zealand.
He also guided Llanelli to their 9-3 win over the All Blacks in 1972. James, who had become a successful broadcaster and pundit, died in January, 1983 and BBC Wales' junior sports awards were then named after him.
JOHN TOSHACK
(1965)
At 16 years and 236 days old, John Toshack was the youngest player in Cardiff City Football Club history when he made his debut in November, 1965, scoring in a 3-1 win over Leyton Orient after coming off the bench.
Four years later he joined Liverpool and went on to become one of the legends of the Kop, scoring 96 goals.
He also won 40 Wales caps, scoring 13 goals, highlighting the reasons for winning BBC Wales' junior title in 1965 when his potential was spotted.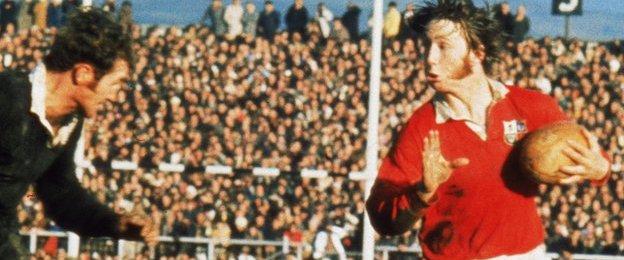 JPR WILLIAMS
(1966)
John Peter Rhys Williams was an accomplished junior tennis player as well as a promising rugby full-back when he was named junior sportsman of the year.
Within three years he was playing full-back for Wales and is to this day regarded as one of the true greats of the sport - and the Wales full-back against whom all others are judged.
As well as helping Wales to Grand Slams in 1971, 1976 and 1978, Williams played in eight consecutive Test matches for the British and Irish Lions on the series-winning tours of New Zealand in 1971 and South Africa in 1974.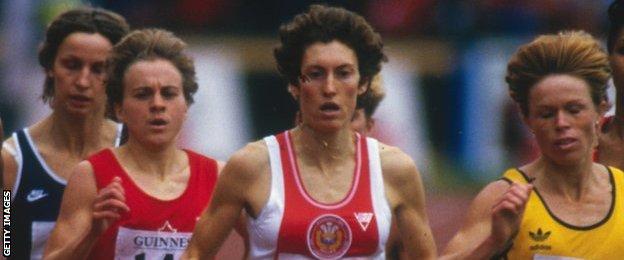 KIRSTY WADE
(1976)
Middle-distance runner Kirsty Wade was born in Scotland, but raised in mid-Wales where she was a star for Brecon Athletic Club.
Her success in the AAA junior championships saw her win the under-15 800m title - the springboard to greater success in the future.
Her major successes came later when she became only the fourth woman in history to run the mile in under four minutes, and claimed gold at 800m in the 1982 Commonwealth Games in Brisbane.
Four years later in Edinburgh, Wade became the first woman to win the middle distance double at the Commonwealth Games.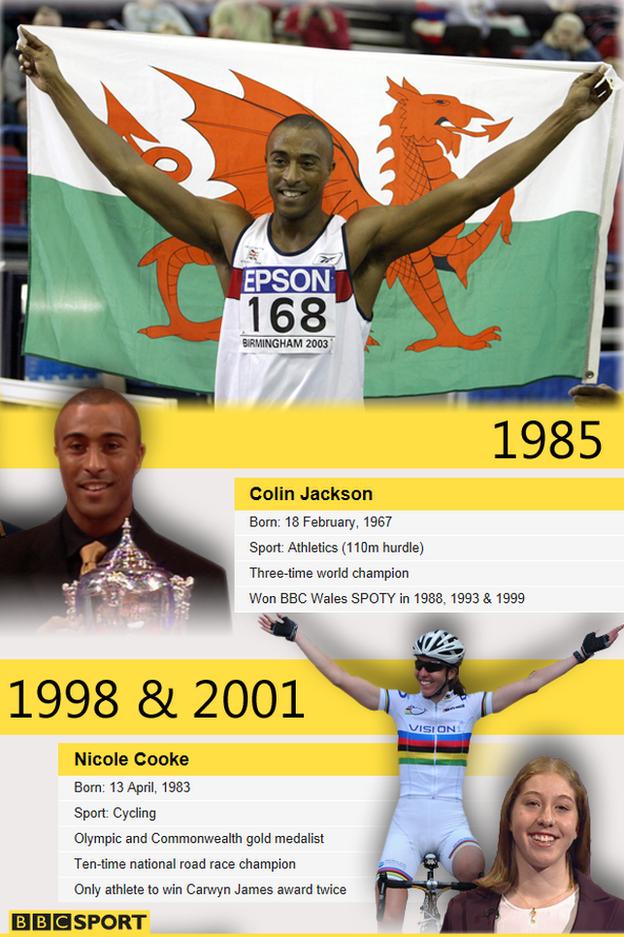 COLIN JACKSON
(1985)
Cardiff-born Colin Jackson is Britain's most successful 110m hurdler, and in a senior career spanning nearly 20 years won 12 major titles.
Though never an Olympic champion, Jackson was the first British athlete to win two world championship gold medals and his winning time of 12.91 seconds in the 1993 event in Stuttgart stood as a world record for nearly 13 years.
He regained the title in 1999 in Seville.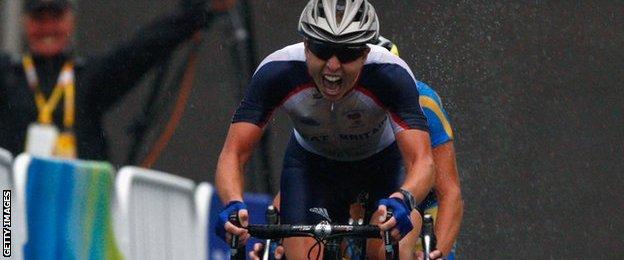 NICOLE COOKE
(1998 & 2001)
Arguably Wales' greatest female athlete, cyclist Cooke's precocious talent was obvious when she won the British senior road race title in 1999 at the age of 16.
By the time she was given the Carwyn James award, Cooke had added a list of titles that included a second British national crown, the senior British cyclocross title and junior world titles in mountain bike, time trial and road race.
Cooke's crowning achievements came in 2008 when she claimed the Olympic road race gold medal in Beijing and the World road race title in Varese, Italy - the first competitor, male or female, to win both titles in the same year.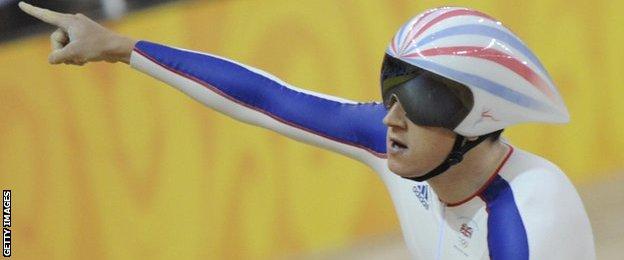 GERAINT THOMAS
(2004)
Geraint Thomas is Wales' leading male road cyclist, and a double Olympic track gold medallist.
The promise Thomas has fulfilled by helping GB to team pursuit gold at the Beijing and London Olympics was spotted early in his career after he won the Junior Paris-Roubaix race in 2004.
In 2014 the Cardiff-born cyclist completed the Tour de France before claiming a time trial bronze and then gold in the road race at the Commonwealth Games in Glasgow.
He is a key member of Team Sky.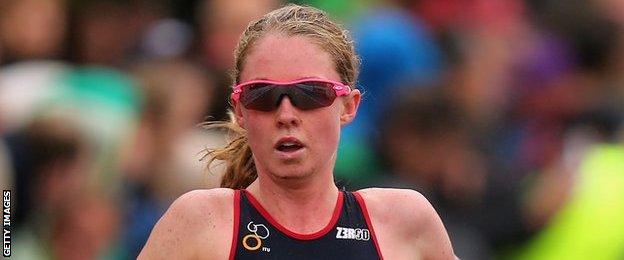 NON STANFORD
(2005)
Non Stanford's potential as a middle distance runner led to her being awarded the Carwyn James junior sportswoman of 2005.
After injury, she turned to swimming in 2008 and joined University of Birmingham's triathlon club, starting a career that has taken her to the top of her trade
Stanford won the 2012 Under-23 triathlon world title and followed that with by winning the senior world crown a year later, becoming the first to achieve that feat.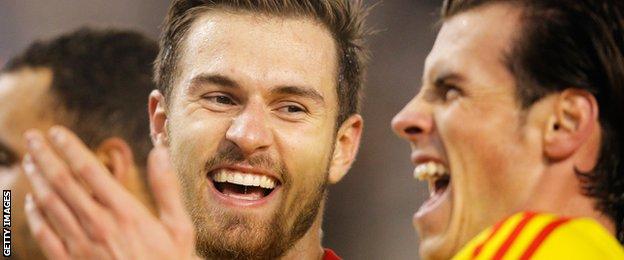 GARETH BALE
(2006)
The most famous Welsh sportsman or woman in the world was still a youth footballer with Southampton in 2006 when he made his debut for the Wales senior team.
Eight years later Bale has scored the winning goals in the European Champions League final and the Spanish Cup final for Real Madrid following a world-record €90m transfer from Tottenham Hotspur.
His importance to Wales manager Chris Coleman cannot be overestimated as his pace and power ensure Bale is among the most feared and tightly-marked - players in world football.
AARON RAMSEY
(2007)
Arsenal and Wales midfielder Ramsey was a promising youngster at Cardiff City when his potential earned him the accolade of Wales' best young sportsman.
His move to north London has seen the Caerphilly-born footballer blossom into one of the Premier League's most respected playmakers - and a cornerstone of the Wales national team along with Gareth Bale.
His goal in the 2014 FA Cup final gave Arsenal a 3-2 win over Hull and their first trophy since 2005.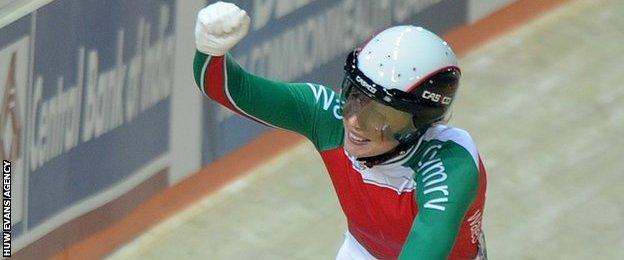 BECKY JAMES
(2009)
Becky James was already a double European track champion and had held the junior keirin and sprint track cycling titles before claiming her BBC Wales award.
There followed bronze and silver medals for Wales at the 2010 Commonwealth Games.
A succession of injuries meant James missed the 2012 Olympics in London, but the following year became the world sprint and keirin champion.