Ladies European Tour: Amy Boulden braced for Watson 'battle'
Last updated on .From the section Wales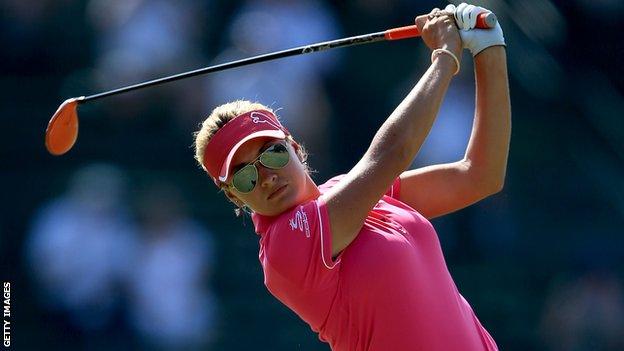 Amy Boulden is relishing her battle with Rookie of the Year challenger Sally Watson at the Dubai Ladies Masters, which starts on Wednesday.
Boulden is 8,000 Euros ahead of her nearest challenger going into the season-ending Ladies European Tour event.
The 21-year-old has had three top five finishes this season and plays in the same group as Watson.
"I think we can bring out the best in each other," Boulden said.
"I think it would be great to have a good battle this week especially with us playing together.
"I think it will be good for both of us. We both know what we have to do this week.
"I don't want her to play badly. I want her to play well and put some good scores and hopefully that will make me play better."

Llandudno's Boulden claimed her first professional title in May and also competed at the US Women's Open and the British Open.
Watson, who has played in four more events on the tour than Boulden, has had two top five finishes this season.
"She's a great player and she's had a great year," Boulden added.
"She had a good finish in India last week so she's obviously on form, so I need to try and get my game together and put some good scores in this week.
"But I want to win the tournament, not just Rookie of the Year.
"I suppose there is a little bit of pressure and Sally's not too far behind going into this event.
"I know that if I play my own game and can put some good scores in I'll be fine.
"I've had a great year so far and have been happy how I've played."