Welsh golfer Amy Boulden makes good start in bid for rookie title
Last updated on .From the section Wales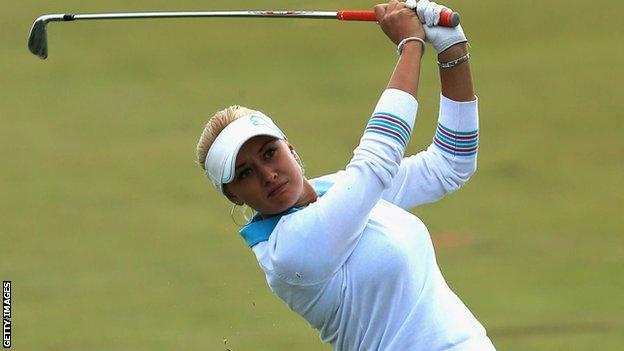 Welsh golfer Amy Boulden is in a strong position to claim the European Tour Rookie of the Year crown after round one of the Dubai Ladies Masters.
The 21-year-old fired a two-under-par 70, six shots better than Sally Watson, her nearest rival for the title.
Boulden was €8,000 ahead of Watson going into the season-ending event.
However, she is four shots behind leaders Carin Koch and Shanshan Feng, and three behind fellow Welsh competitor Becky Brewerton.
The Conwy golfer has had three top five finishes this season and played in the same group as Watson in the first round.
Speaking before the start of play, Boulden said: "I think we can bring out the best in each other."
"I think it would be great to have a good battle this week especially with us playing together.
"I think it will be good for both of us. We both know what we have to do this week.
"I don't want her to play badly. I want her to play well and put some good scores and hopefully that will make me play better."