Rhys Williams and Gareth Warburton 'have served drug bans'
Last updated on .From the section Wales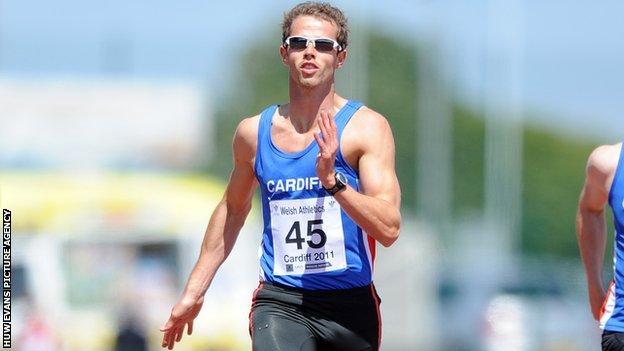 Rhys Williams, 30, received a suspension of four months and Gareth Warburton, 31, six months after failing drugs tests, reports the Sunday Times.
But the report says the two Welsh athletes, who have served their bans, have been cleared by UK Anti-Doping (UKAD) of knowingly cheating.
Williams and Warburton were unavailable for comment to BBC Wales.
The newspaper says UKAD accepted the duo's argument they had unknowingly used a contaminated supplement.
The newspaper adds that the supplement under suspicion, Mountain Fuel Xtreme Energy drink, was sent to an independent laboratory, LGC, which allegedly confirmed the existence of anabolic steroid metabolites in Mountain Fuel's blackcurrant drink.
Mountain Fuel chief executive Darren Foote told BBC Wales he had not seen a copy of the UKAD report, but that he had been told it was accidental contamination and was adamant it did not involve his product.
"I'm not going to give stuff to them that has anabolic steroids in it," Foote said. "They would have been banned for life if they'd been taking anabolic steroids.
"I'm just chuffed the guys are back in running," he added. "I stood by them all the way. I'm glad the truth has come out. They are genuinely 100% good guys."
European 400m hurdles champion Williams tested positive in both his A and B samples at the Glasgow Grand Prix on 11 July last year, while 800m runner Warburton - the European Indoor runner-up in 2005 - was tested out of competition on 17 June.
Both athletes had to withdraw from the 2014 Commonwealth Games, where Williams was set to be co-captain of Wales' athletics team.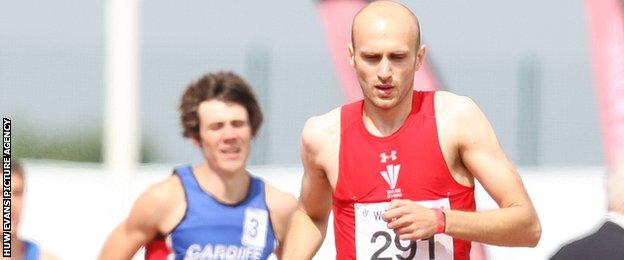 With the pair having been provisionally banned last July, and having therefore served their suspensions, both are now free to resume their athletics careers.
The Sunday Times quotes the pair on their experiences during a difficult period.
"I have never cried so much as I have in the last six months," said Williams, son of former Wales and Lions rugby player JJ Williams.
"It's been devastating for me and for all the people around me. I don't want to come across as bitter but my message is: 'If it can happen to me, it can happen to anyone.'
"Look what happened to me and most people don't do half the checks I do."
Warburton is reported as saying: "Hardest six months of my life, being stopped doing the thing I love. But the rules are in place to catch people who are cheating.
"We are responsible for what it is our bodies. I could have had the supplements tested but that costs thousands and I don't earn that much money."
Under the revised 2015 World Anti-Doping Code, national anti-doping bodies now have more flexibility in imposing sanctions for violations.
Serious cases of intentional doping can now result in a four-year ban, but the punishment for less serious offences can be reduced and both Warburton and Williams have benefited from this change.
The Sunday Times carries what it claims is an excerpt from UKAD's statement on the case.
"UK Anti-Doping's view is that the panel should look closely at the failings of both Mr Warburton and Mr Williams but whilst doing so recognise that this is a contaminated supplement case.
"Mr Warburton and Mr Williams may have brought this matter on themselves but they are victims. They are not cheats. They made mistakes and have paid for them heavily already.
"UKAD would not disagree with the panel if the panel found that their failings were not significant.
"We accept their evidence that they had not knowingly taken anything [that] contained the prohibited substances."