Joe Calzaghe backs Nathan Cleverly to be a champion again
Last updated on .From the section Wales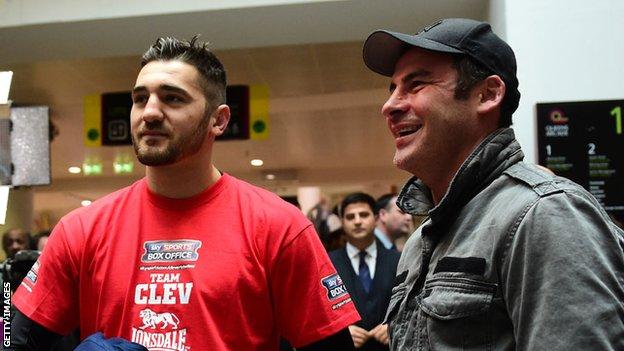 Joe Calzaghe says Nathan Cleverly can bounce back from his defeat by Tony Bellew to became a champion again.
But the former undefeated world champion says fellow Welshman Cleverly will probably have to drop a weight to achieve that goal.
Bellew scored a split-decision cruiserweight win over Cleverly last month, avenging an earlier defeat.
"He probably needs to come back down to light-heavyweight," Calzaghe told BBC's Sport Wales programme.
Cleverly concedes he may step back down a division to light-heavyweight following defeat to Bellew in Liverpool.
The Cefn Fforest fighter admitted he struggled going the full 12 rounds for the first time in his new weight division.
"He's obviously disappointed with his performance and it was his first real fight at cruiserweight in regards to a 12 round fight and he didn't handle it well," Calzaghe added.
"You carry a lot of muscle [at cruiserweight] which probably took away his biggest assets which are his speed and his work-rate.
"And if putting weight on takes that away then you have to really look at that.
"But there's nothing to be down-hearted about - it's up to him as long as his heart is still in the sport and he wants it bad enough then he can become a champion again one day."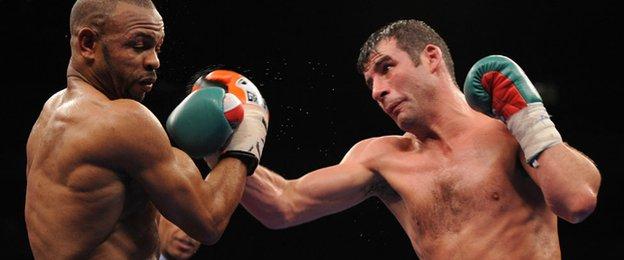 Cleverly opted to move up to cruiserweight after losing his WBO light-heavyweight world title to Russian Sergey Kovalev in August 2013.
The switch involved the Welshman having to put on nearly two stones in weight.
Cleverly conceded he had lacked energy in the second half of his defeat by Bellew, but Calzaghe - undefeated in 46 professional fights - does not think the change of weight was a mistake.
"You have to try things in life," said Calzaghe.
"He's still young he's only 26 . Okay he's had a loss, but it wasn't a bad loss it was a close fight, he didn't get hurt.
"I think he's probably frustrated because it's a fight he could have won.
"Bellew was nothing special it's just that Nathan knew he didn't do enough work in the second half of the fight and that's just down to being tired.
"And he was tired because he said he was carrying too much weight - he struggled from carrying so much muscle.
"So if that's the case he probably needs to come back down [a weight], go back to basics and rediscover his form."
Watch more of Joe Calzaghe's interview on Sport Wales on BBC 2 Wales, 19:00 GMT on Friday, 12 December.