Rhys Williams and Gareth Warburton target track returns
Last updated on .From the section Wales
Welsh athlete Rhys Williams has targeted qualifying for the 2015 World Championships in Beijing after a four-month ban for failing a drugs test.
Williams' focus is "firmly on" selection for the World Championships.
Warburton said he was looking forward to "getting back to what I love doing".
Former European 400m hurdles champion Williams tested positive in his A and B samples at the Glasgow Grand Prix on 11 July last year, while 800m runner Warburton - the European Indoor runner-up in 2005 - was tested out of competition on 17 June.
Both athletes had to withdraw from the 2014 Commonwealth Games, where Williams was set to be co-captain of Wales' athletics team.
It has been alleged that both athletes had unknowingly used a contaminated supplement.
With the pair having been provisionally banned last July, and having therefore served their suspensions, they are now free to resume their athletics careers.
The Beijing meeting takes place in August 2015.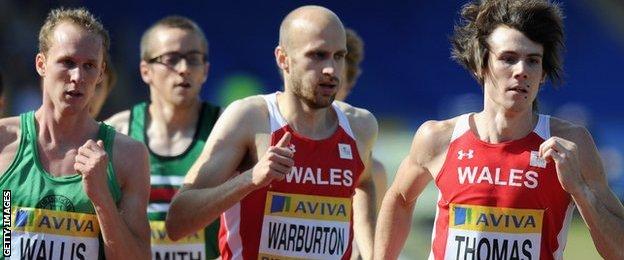 Williams, the son of former Wales and British and Irish Lions wing JJ Williams who also represented Wales as a sprinter, is hoping to "salvage a small positive" by helping educate young athletes.
"I remain as committed to drug-free athletics as ever," Williams said in a statement.
"The last six months have been extremely difficult for me and my family.
"This has been an absolutely devastating situation to have found myself in and missing out on the opportunity to represent Wales at the [2014] Commonwealth Games was particularly hurtful.
"I hope that I can salvage a small positive from this difficult situation by working with young and up-and-coming athletes to educate them on anti-doping and my personal experience."
Like Williams, Warburton thanked his family and friends for their support during the investigation into the matter that led to their bans.
"I am committed to drug-free sport and will work actively with the governing bodies to further educate and share what I've learnt," Warburton said.
"Understandably, the last six months have been extremely difficult for me and those closest to me, and so I would firstly like to take this opportunity to thank my family, friends and fellow athletes for their continued support.
"As a passionate Welshman, missing out on the chance to represent my country at last year's Commonwealth Games was devastating.
"However, I am now looking forward to putting this difficult period behind me and getting back to what I love doing."
Under the revised 2015 World Anti-Doping Code, national anti-doping bodies now have more flexibility in imposing sanctions for violations.
Serious cases of intentional doping can now result in a four-year ban, but the punishment for less serious offences can be reduced and both Warburton and Williams have benefited from this change.