Williams and Warburton face drugs stigma, says Jamie Baulch
Last updated on .From the section Wales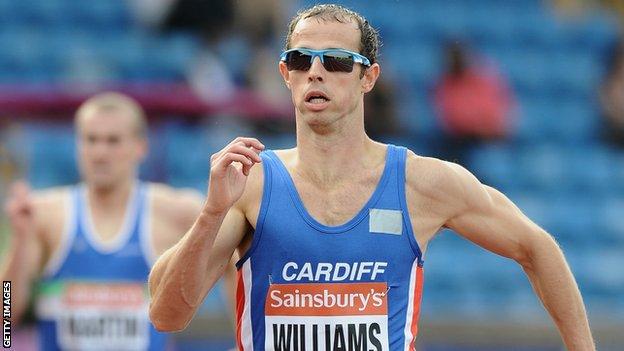 Former world indoor 400m champion Jamie Baulch believes fellow Welshmen Rhys Williams and Gareth Warburton will forever live with the stigma of their drugs bans, despite being "victims".
Both are now free to compete and Williams has targeted the 2015 World Championships.
"It's something which will never, ever go away as such," said Baulch.
European 400m hurdles champion Williams tested positive in both his A and B samples at the Glasgow Grand Prix on 11 July last year, while 800m runner Warburton - the European Indoor runner-up in 2005 - was tested out of competition on 17 June.
However, Baulch, who won individual gold at the 1999 World Indoor Championships, believes Williams and Warburton were victims after both, it has been alleged, unknowingly used a contaminated supplement.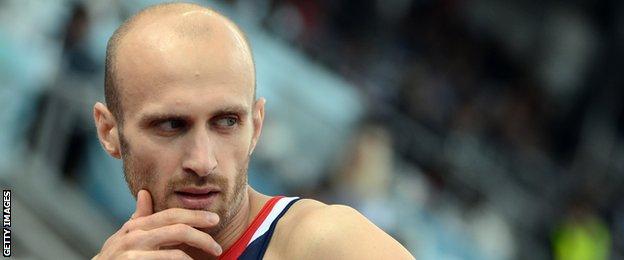 The duo had to withdraw from the 2014 Commonwealth Games, where Williams was set to be co-captain of Wales' athletics team.
Baulch added: "I feel very sorry for the two athletes in question, having missed out on the Commonwealth Games last year."
With the pair having been provisionally banned last July, and having therefore served their suspensions, they are now free to resume their athletics careers.
"They've come out, I suppose, on top which is great, but it's always that little bit of gloom unfortunately," said Baulch.
Asked if he saw them as very much the victims, Baulch said: "I do."
Baulch, who also won 4x400m relay gold at the 1997 World Championships, added: "You're always going to get that little bit of doubt over it, not because they've done anything wrong, as such.
"It's just you're always going to get tarnished because drugs in sport is always a no-no.
"And unfortunately they've been embroiled in something which they didn't knowingly do, but it's always that little bit of grey area there.
"Hopefully they'll be strong enough in character to put it behind them."
Baulch believes the support Williams and Warburton receive from those close to them can help them bounce back.
"To be the best and be in the best shape you can be in you've got to have 100% sound mind and positive outcome on everything," said Baulch.
"It's going to be difficult to put something so big behind you.
"But I know they're both going to have some great support and network around them."
Under the revised 2015 World Anti-Doping Code, national anti-doping bodies now have more flexibility in imposing sanctions for violations.
Serious cases of intentional doping can now result in a four-year ban, but the punishment for less serious offences can be reduced and both Warburton and Williams have benefited from this change.