Ryder Cup hero Jamie Donaldson & Amy Boulden eye up big years
By John Hopkins
Golf writer
Last updated on .From the section Wales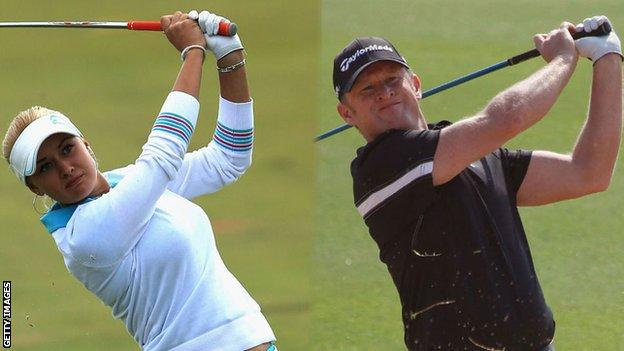 Wales's two leading professional golfers, Jamie Donaldson, 39, and Amy Boulden, 21, have every right to be thinking big at the start of a new golfing year.
Boulden made a sensational start to her professional career in 2014, when she won a tournament, had top-five finishes in two others and was named Rookie of the Year.
That means she can legitimately hope to be in the 2015 European Solheim Cup team to face the United States in Germany in September.
Donaldson says the time has come for him to start winning major championships and after an exceptional debut in last year's Ryder Cup his self-confidence rocketed.
He has the skill to regard the Masters, the US Open, The Open and the US PGA Championship - golf's four great prizes - as legitimate targets and become the first Welshman to win one since Ian Woosnam more than a quarter of a century ago.
Donaldson said: "2015 is going to be my biggest test yet. I've improved every year for the past seven and now it's time I started thinking about winning major championships.
"I am good enough, I have been around long enough and I've had chances in all of them in the past. Now it's down to me."
Among his peers on the European Tour, Donaldson is a model of consistency, climbing from 229th in the Race to Dubai standings in 2007 to fourth by the end of last year.
Currently ranked 24th in the world, his ninth-place finish in the recent Abu Dhabi tournament was his seventh top 10 in his past 16 events on the European Tour.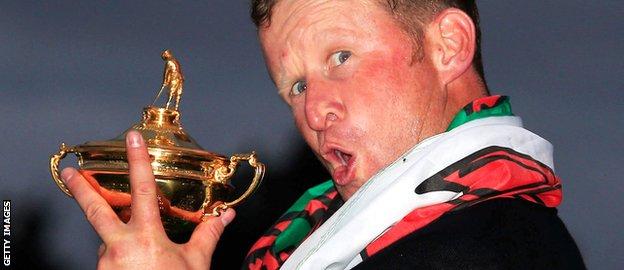 To many, Donaldson is remembered as the man who hit the shot that set up victory for Europe in last September's Ryder Cup at Gleneagles.
Just as many, though, remember and admire him for openly celebrating Europe's triumph in a way that many sportsmen today would not have dared to do.
At 7.15am on the morning after Europe's 16.5-11.5 victory, Donaldson emerged from his hotel and was asked whether he could take in all that had happened the previous three days. "Err, no," he replied, "I'm still drunk."
"We celebrated properly. It was great and people have connected with it [my behaviour] because it was not how some prima-donna sportsmen would have reacted," Donaldson reflected.
But then Donaldson, who was born in Pontypridd on 19 October 1975 before moving with his parents to Macclesfield, is about as far removed from a prima donna as it is possible to be.
Donaldson is a bloke's bloke, the sort with whom you want to go down to the pub, a man who has a natural friendliness that makes you feel as though you know him better than you do.
He is also a petrolhead who owns fast cars that he likes to race at Oulton Park or Donnington, and a recent treat for him was to do four laps around the Abu Dhabi Formula One track in a F3000.
"It was a pure adrenaline rush," he said. "It's the first time I've ever driven a single-seater and it's so small, you can hardly move in the cockpit.
"Your hands are right up in front of you, but once you're in, it's very comfy. I know what I'm supposed to do - hit the apexes of the corners, brake in a straight line and so on.
"The instructor said to me it was a nice way for him to end his day because most people like to drive at a snail's pace, whereas I was going like a bat out of hell. I was doing 140, perhaps 150mph down the straight."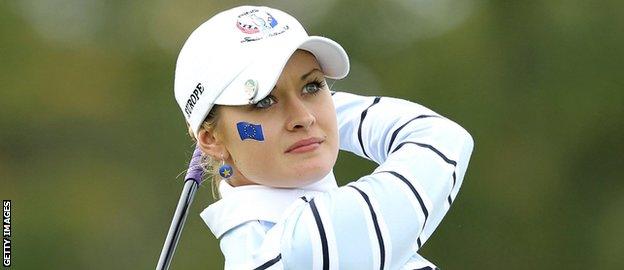 Donaldson made a huge contribution to Europe's success in the Ryder Cup, hitting the stroke that set up victory against the US. Could Boulden do the same for Europe in the Solheim Cup at St Leon-Rot, near Bonn, from 18-20 September?
"It's possible," said Boulden, from Conwy Golf Club. "European women's golf is very strong at the moment and if Jamie can do it then I don't see why I can't as well. First, though, I have to get into the team.
"I'm good enough, I know that, and to make that team has always been one of my ambitions.
"I won the Rookie of the Year last year and that was one of my goals when I turned pro. It's a real honour to win and join the prestigious list of former winners including Laura Davies, Annika Sorenstam and Charley Hull. Now I want to make the Solheim Cup team."
Richard Dixon, chief executive of the Golf Union of Wales, paid tribute to both Donaldson and Boulden at an awards dinner at the Celtic Manor resort in January.
"While Jamie was the dominant Welsh male golfer last year, special mention should also be made of Amy Boulden," Dixon said.
"Her achievement was made extra special because she did not have a tour card at the start of the season and had to rely on limited invites. She certainly made the most of her opportunities. She is going to be a big name in women's golf in the future."