Dai Greene: Lessons to be learned from Welsh duo's drug bans
Last updated on .From the section Wales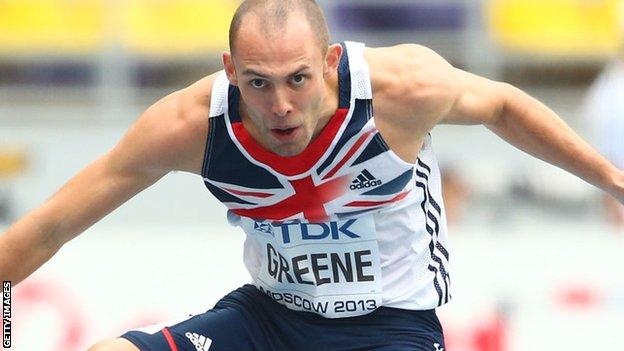 The case of two Welsh athletes banned for failing drugs tests should act as a warning to youngsters in the sport, says hurdler Dai Greene.
Rhys Williams and Gareth Warburton received four and six-month bans after "not knowingly" taking supplements containing prohibited substances.
Greene, who has trained with both, says the case made him realise anyone could be caught out.
"In their situation I think they were very hard done by," said Greene.
"Sadly these two have been let down, but hopefully the next generation will learn from that.
"Maybe you could say that perhaps they didn't check everything, but no athlete checks everything.
"They trust what they are told by the supplement companies... they weren't at fault."
An official national anti-doping report published in January found that Warburton and Williams were "at fault or negligent" but had not knowingly taken anything containing the prohibited substances.
The independent tribunal found neither athlete took enough advice before consuming Mountain Fuel supplements, some of which were contaminated with an anabolic steroid.
Both athletes, who have now served their bans, have urged other athletes not to take sporting supplements after their experience.

"I do feel that supplement companies perhaps do have to do a little bit more to make sure that their products are 100% batch tested and that there is no chance of any contaminants," said Greene.
"As athletes we do have to push ourselves to the limits to get the most out of ourselves so we do need to use supplements to help recover and stay fit and healthy and improve on the track.
"It just needs to be in accordance with the rules."
Greene has been troubled by injuries since winning the world 400m hurdles title in 2011 and lost his Commonwealth crown in Glasgow 2014.
The 28-year-old says he is now back on track and is preparing for a world record attempt in the 600m in Montreal, Canada in February.
It is part of his long-term aim of winning gold at the 2015 World Championships in Beijing.
"I feel that the worst bit of my injury problems are a long way behind me," said the London 2012 Team GB athletics captain.
"Everything leads towards Beijing. That's what I've got to prepare for."