Mo Farah: No Cardiff race cash incentive for Olympian
Last updated on .From the section Wales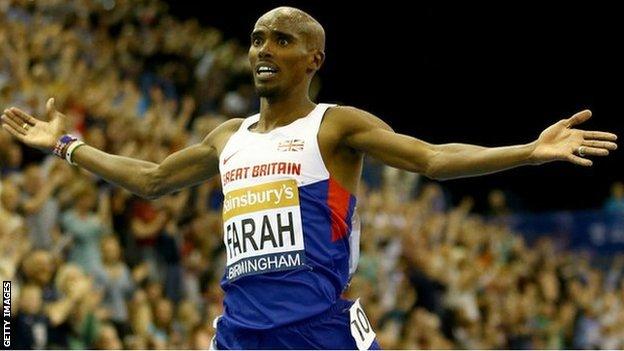 Organisers of the 2016 World Half Marathon Championships in Cardiff say there will be no financial incentive for Mo Farah to compete.
The double Olympic gold medallist could use the event as part of his Rio Olympics build-up.
Organising committee member Matt Newman hopes Farah will feel a sense of duty to race in the Welsh capital.
"At the moment we're definitely not talking about financial inducements," said Newman.
"What we're talking about I guess are emotional and practical inducements to make sure the event does fit into his agenda in an Olympic year.
"It's for him really to an extent to give something back to the public of the UK as well."
Farah broke the two-mile indoor world record on Saturday at the Birmingham Grand Prix.
International Amateur Athletics Federation secretary Essar Gabriel has said the London 2012 star was pondering using the event as part of his build up for Rio de Janeiro.
Gabriel toured the route around the Welsh capital with the event hosts and has given it his seal of approval.
The race takes place in 26 March, 2016 and organisers are hoping 25,000 runners will take part.