World Grand Prix: Snooker competition lands in Llandudno
By Aled Williams
BBC Wales Sport in Llandudno
Last updated on .From the section Wales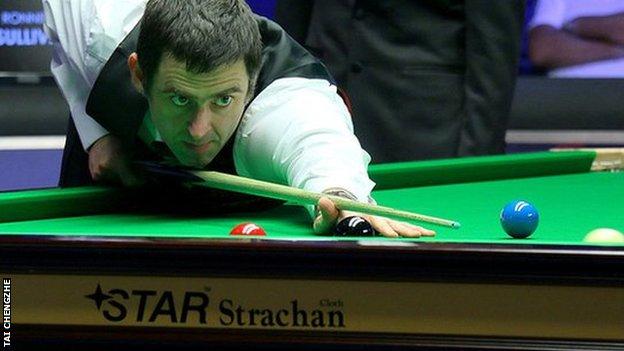 Llandudno on the north Wales coast is far removed from the hustle and bustle of the Indian city of Mumbai.
On first glance it seems the two places have little in common. Mumbai has a population of over 11 million, Llandudno is a genteel Victorian resort famous for its pier and Great Orme tramway.
But both locations find themselves involved in the ever evolving and expanding World Snooker Tour, hosting tournaments on consecutive weeks.
Although demanding, the circuit is also rewarding since World Snooker chairman Barry Hearn shook up a sport that he described as "dormant" and "dying."
While the Indian Open marked another staging post in snooker's bid for global appeal, it was Llandudno that was awarded the sport's newest tournament, the World Grand Prix.
As the waves lap up against the town's North Shore, 32 of the world's leading players are in action this week at the Venue Cymru complex, a cobble's throw from the beach.
The World Grand Prix was created by Hearn and, despite not being a ranking event, the tournament offers £100,000 to the winner, and a total prize fund of £300,000.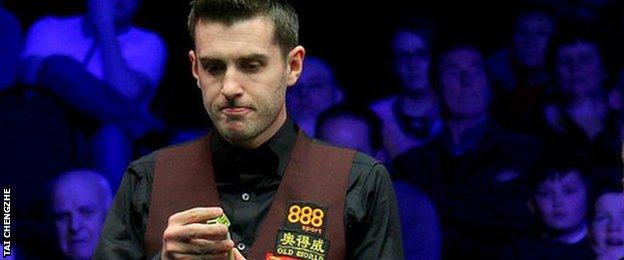 Among those taking part are world number one and reigning world champion Mark Selby, who now has another title - that of father to four-month-old Sophia.
"It would be nice to get through to Sunday's final, especially with having a little girl now," Selby said following his 4-1 first round win over Michael Holt, which earned him £2,500.
"As everyone who's had children knows, it's not cheap. I need to pay for the nappies and clothes so I need to keep winning as much as possible.
"It makes coming away a lot harder but, at the same time, it makes you more determined to go on and do well."
Llandudno has previously staged matches in the Premier League, while further along the coast Pontin's in Prestatyn has been a regular venue for qualifiers.
But the World Grand Prix is the biggest tournament to be held in north Wales and Welsh interest is well represented - man of the moment Michael White one of four Welshmen competing.
On the back of his first professional title - the one frame Shoot-Out in Blackpool in early March - the 23-year-old won his first world ranking title at the Indian Open.
Also involved are former world champion Mark Williams - who faces fellow Welshman Ryan Day in the first round - and Dominic Dale.
"It's nice to be here in a small community of players battling it out for the first prize," said Dale, who previously competed for the World Trick Shot Championship in Llandudno.
"When you're playing all the top guys, you are taking it match by match and the prize money takes care of itself as you go along.
"It's incredible what Michael's achieved. He's playing some great snooker at the moment and to win his first major ranking event is incredible for him.
"He's only 23 and he could be the new Mark Williams in the years to come, which would be brilliant."
The World Grand Prix is the second major snooker tournament to be held in Wales, with the Welsh Open already an established event on the tour.
Five-time world champion Ronnie O'Sullivan had been critical of the venue for that event - Cardiff's Motorpoint Arena - describing it as a "shambles" and a "car boot sale."
But the 39-year-old was far more complimentary of Venue Cymru following his 4-2 first round victory over Rod Lawler.
"The venue's fantastic. The table's playing great but with a venue like this the tables will always play great," he said.
"If you're going to take tournaments to rubbish venues then you're going to get the tables playing rubbish. But this venue is perfect for snooker.
"I don't think I played well. It's the first time I've picked my cue up since the Welsh Open and I haven't played for a month. I've been enjoying life.
"I'm very rusty and I didn't expect to get through that much but it was a bonus. If I can get through to Friday I've got half a chance."
The tournament's final will be held on Sunday, 22 March.