Tour of Flanders: Geraint Thomas eyeing major milestone
By Gareth Rhys Owen
BBC Wales Sport
Last updated on .From the section Wales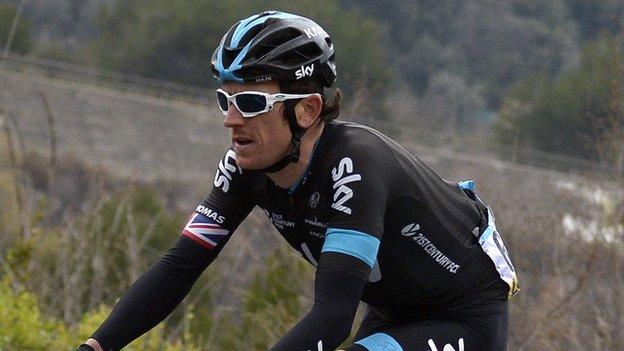 The barman at my hotel in Kortrjk in West Flanders insists on telling me how much he hates cycling. In fact he really hates cycling.
Yet less than a minute later, he volunteers his own theory as to why pre-race favourite Geraint Thomas will struggle to win the Ronde Van Vlaanderen (Tour of Flanders).
Welcome to Flanders, where not liking the sport does not stop you from having an opinion. Cycling is king here and the Tour of Flanders is its own Regal Sunday.
Think Cardiff during a Six Nations weekend. It is an event, an excuse to dress up, drink to excess and to lose oneself under the wheels of an unavoidable juggernaut that sweeps everything in its path. Like it or lump it you cannot avoid the RVV and this year you cannot avoid the word "Thomas".
Geraint Thomas will start Sunday's race as favourite. Second in world governing body the UCI's rankings, Thomas has been in imperious form on the Flemish cobbles. He won the E3 Harelbeke race at a canter and managed a podium place three days later in Gent-Wevelgem despite being blown off his bike by a Belgian twister.
Most experts agree with British Cycling technical director Shane Sutton's assessment that he is currently the strongest rider in the field. A theory that is strengthened by the absence of two of the race's most iconic figures. Fabian Cancellara and Tom Boonen have been victorious three times each but both have taken heavy tumbles in recent weeks.
Crashes are an unavoidable part of cobbled racing. The unpredictability of RVV highlights Fabian Canellara and Tom Boonen's remarkable achievements but also underlines the challenge ahead of Thomas.
Like the Grand National there is no such thing as a banker when it comes to the classics, there are too many variables and Thomas will need luck and support if he is to reach the top of the podium.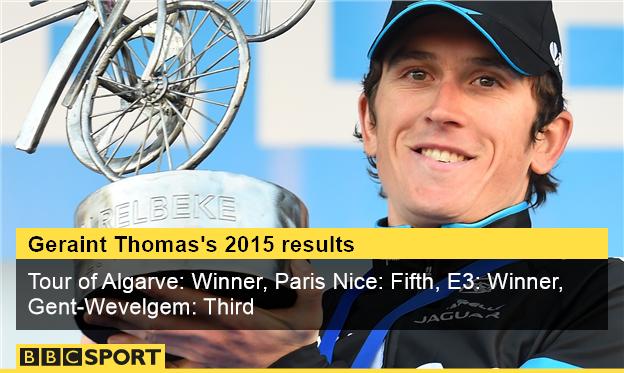 As Team Sky's designated leader he should, in theory, receive that backing and with stronger finishers in the field such as Slovakian Peter Sagan and Norwegian Alexander Kristoff, Thomas will look for assistance in shedding his punchier rivals before the final kilometres.
Despite all its Grand Tour success, the classics shelf of Team Sky's trophy cabinet remains threadbare and winning a monument (one of the five major one-day classics) would complete Dave Brailsford's jigsaw.
But victory for Thomas on Sunday would be a major milestone for British Cycling as a whole.
Until Isle of Man rider Mark Cavendish's stunning Milan-San Remo victory in 2009, Tom Simpson stood alone as the only British winner of a Monument. Simpson won Flanders in 1961 and more than half a decade later there has not been another British success.
It is more than likely that success in Belgium will make less of an impression back home than his Olympic and Commonwealth Games success. On the continent, the opposite applies. Olympic medals count for very little in Belgium. It is Grand Tours and Monuments that are the accepted currencies.
I ask my barman for his opinion on the matter. He chuckles to himself as he pours my second Biere Blonde.
"I don't know anything about track cycling or Olympic medals, but I tell you this: if he wins on Sunday he'll never have to buy a beer in Flanders again," he says.
"Even from a non-cycling fan like yourself?" I reply.
"Of course, it's the law. Now that's eight euros, please."