Wales' Seren Bundy-Davies helps GB 4x400m relay book Rio spot
Last updated on .From the section Wales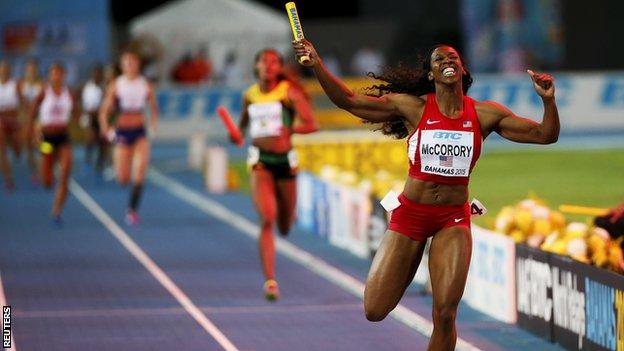 Welsh 400m runner Seren Bundy-Davies can look forward to her first Olympics after helping Great Britain's 4x400m women qualify for Rio 2016.
The 20-year-old ran the last leg as Team GB held off France by 0.3 seconds to win bronze at the IAAF World Relays in the Bahamas.
Bundy-Davies crossed the line with the clock at 3min 26.38sec, while the USA took gold ahead of Jamaica.
"I knew the French had a really strong last-leg runner," Bundy-Davies said.
"But I think I held them off really well... all that was going through my mind was to keep my position.
"It was really exciting to be with the Jamaicans and the USA, really putting ourselves up there... running against world champions and Olympic champions. It was really humbling.
"You learn something new every time you run a relay, but this was the first time I've run a fourth leg so it's just a different approach - I think I've just learnt to run that leg properly."
The 4x100m women's team also won a bronze medal, while the 4x400m men came through their final in sixth place to guarantee spots at the Rio Games.
Britain's 4x100m men's team failed to qualify on Sunday after finishing ninth in the heats, although they will have other opportunities.