Golf Hall of Fame exclusion motivates Ian Woosnam
By James Pontin
BBC Wales Sport
Last updated on .From the section Wales
Ian Woosnam says he is using his "frustration" at not being inducted into World Golf's Hall of Fame as motivation.
The 1991 Masters winner won his first US Champions Tour title earlier this month.
Ryder Cup winning captain Woosnam, 57, admits it hurts being overlooked by the Florida-based organisation.
"It's very frustrating, but I'm using it to get to where I am at the moment," said the Welshman.
Four people were inducted into the class of 2015 - Laura Davies, Mark O'Meara, David Graham and the course architect, AW Tillinghast.
Woosnam has only the one major title, yet Colin Montgomerie, who has no majors, but eight European Tour Orders of Merit, is already in the Hall of Fame.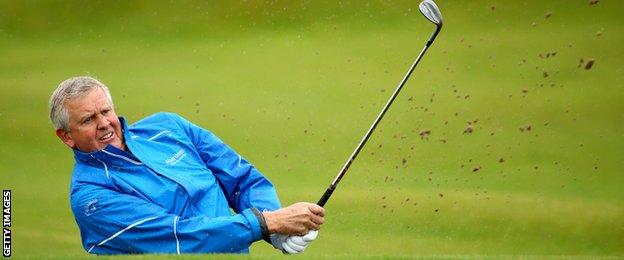 When the announcements were made, Woosnam made no attempt to hide his frustration, posting on his Twitter account: "After seeing the results of the golf world hall of fame, I think it's time to say goodbye to golf and retire."
The Welsh golfer did not follow his threat through.
In May 2015 he holed a 30-foot putt to win a play-off and win the Insperity Invitational title against Americans Kenny Perry and Tom Lehman in Texas.
"I've been out in America for the last five or six weeks and have been playing better every week," Woosnam said afterwards.
"It was fantastic to get the result at the Insperity, I've been practicing hard and that's now paying off.
"I'd been having to ask for invitations [to Champions tour events] all the time, but now that [title win] gets me an exemption.
"If I finish in the top 30 on the tour I get a full exemption for the year."
Ian Woosnam
Height:
5ft 5in
DOB: 2 March 1958
Birthplace:
Oswestry
Major victories: Masters, 1991
Perhaps another factor behind his Hall of Fame frustration is that those in it automatically receive an exemption to play on the Champions Tour.
Woosnam's other motivation is to add to his collection of titles.
Before returning to Europe to play in the Wales Seniors Open on 29-31 May he is targeting another major - the US Seniors PGA Championship.
"I'm hitting the ball well and have two big tournaments coming up. Hopefully I'll be a major winner again by the time I come to Wales," he said.
"I always like playing in front of my home fans. I'm enjoying it at the moment... It's always enjoyable when you are playing well.
"The Hall of Fame is a strange one. I'm getting a lot of coverage in America at the moment so hopefully it will open a few doors."