Welshman Jamie Donaldson targeting win in golf Major
Last updated on .From the section Wales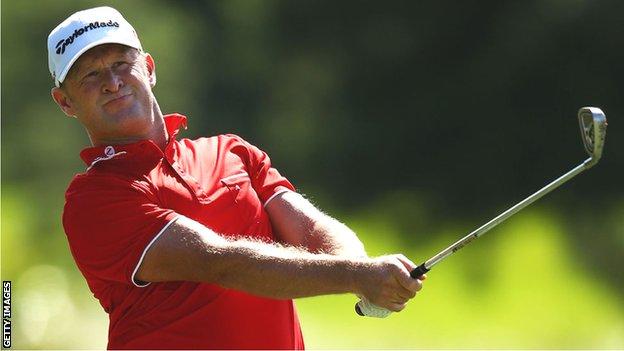 Jamie Donaldson says he is "heading in the right direction" in his ambition to win one of golf's biggest events.
The 39-year-old Welshman tied in eighth-place at the 2015 Players Championship in early May.
Donaldson has returned to the UK after four months on the US Tour, and competes in the BMW PGA event at Wentworth, starting on Thursday.
"Winning Majors, winning world events, that's what I want to achieve," said the 2014 Ryder Cup player.
"I've got a long way to go, I'm grafting but we're heading in the right direction and looking forward to those big events this year."
Donaldson's shot to clinch the winning point for Europe in the Ryder Cup at Gleneagles is so far the highpoint of a career which has seen the Welshman enjoy a run of success after a faltering start of his career.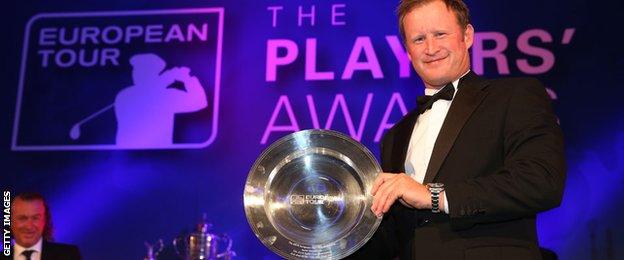 Injury and poor form dogged him until his breakthrough victory at the Irish Open in 2012.
Since then Donaldson has won further European Tour events at Abu Dhabi and the Czech Masters, and in 2013 was ranked fifth on the Tour.
Donaldson says he is happy to be back in Europe after his spell in the US.
"I played nicely in the Players Championship and a couple of other events," he added.
"But overall in America in the four month period it was so-so. Some of my play was great and some average.
"[It was] Great to play well and then come home with some form behind me.
"It would be incredible to win this event, and I need to get ready to make that happen.
"It is important, the big ones are the only ones to play well in really, it gets you more recognition, more ranking points.
The Majors are the most important thing, but building up to those so are every other event to enable you to play well in those, so in the grand scheme of things every event is important."
Donaldson's best finish in a Major was his seventh-place in the USPGA in 2012, and he tied for 14th-pace at the Masters in 2014.