Jamie Donaldson 'happy' with start at Wentworth
Last updated on .From the section Wales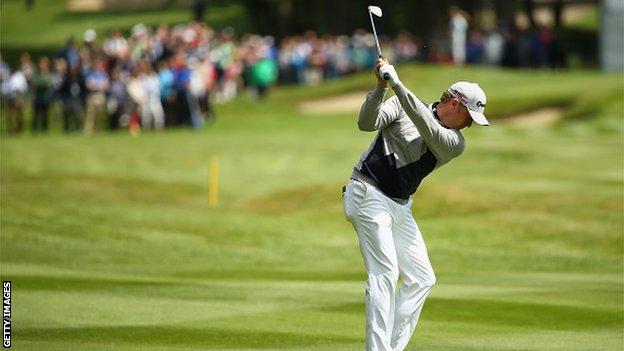 Welsh golfer Jamie Donaldson says he is happy with his start to the BMW PGA event at Wentworth despite not playing his best.
Playing alongside Rory McIllroy and Martin Kaymer, Donaldson, 39, had birdies on the third and fourth holes, shooting a two under par 70 in his opening round.
"I wasn't quite firing on all cylinders but at the same time made up for a few errant shots," said Donaldson.
"I'm happy and in a decent position."
Donaldson tied in eighth-place at the 2015 Players Championship in early May.
He hopes a few changes in his game for Friday's second round could see him finish high up the leader board again at the event in Surrey.
"I've just got to hit a little bit closer [to the hole], " he said.
"Just to get the iron shots tighter tomorrow and we can shoot a low score."