Nathan Cleverly to face Tomas Man at light-heavyweight
Last updated on .From the section Wales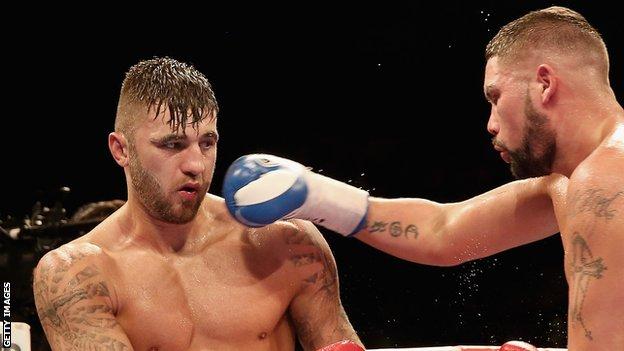 Wales' former world champion Nathan Cleverly will face Tomas Man on his return to light-heavyweight on 30 May.
Having lost to Tony Bellew at cruiserweight in 2014, Cleverly takes on Czech Man, 38, in a non-title fight.
"Hopefully after Saturday night I will have something big to concentrate on - which I hope will be the Brahmer fight," said Cleverly.
"I understand it has been provisionally agreed and a date has been provisionally agreed, it is just a matter of me coming through Saturday and we can make an announcement then."
Cleverly's fight against Man will take place at London's O2 Arena on the undercard to fellow Welshman Lee Selby, whose first world title shot is against Evgeny Gradovich for the IBF featherweight title.
The defeat to Bellew was Cleverly's second in 30 fights, while Man has won 13, lost eight and drawn one of his 22 bouts.
Cleverly was due to fight Braehmer in 2011 but inherited his WBO light-heavyweight crown without fighting after the German pulled out because of injury.
The fighter from the Gwent Valleys held the WBO title for two years before being knocked out by Sergey Kovalev in August 2013.
"We have a lot of history, me and Brahmer. It would be nice if we could finally get this fight on because it has been meaning to happen for a long, long time," said Cleverly.
"Let's just both get in the ring and settle it once and for all. I have to respect his power but I feel I have too much for Juergen Brahmer."