Lee Selby 'was in second gear' winning IBF world title
Last updated on .From the section Wales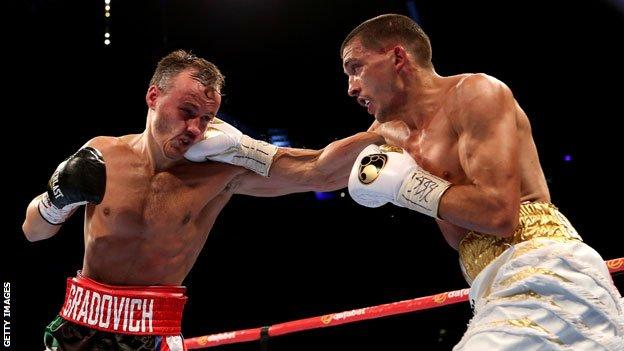 New IBF featherweight champion Lee Selby says he did not get out of "second gear" beating Russia's Evgeny Gradovich.
The Welshman, 28, was awarded the fight unanimously after the bout was stopped in the eighth round after Gradovich's right eye was cut following an accidental clash of heads.
Selby is the third Welshman to win a featherweight world title.
"I was still in second gear just coasting through it," he said.
"I don't know if it looked that way but... there wasn't a moment in the rounds where I had to dig deep."
The previously unbeaten Gradovich did get through with a couple of right hands but former British, European and Commonwealth champion Selby said he was not hurt.
"I've been hit harder, put it that way," said Selby, who now has 21 wins and one defeat, that one loss an insignificant four-round fight in 2009.
The fighter from Barry in South Wales says his success is down to being a family man and hard work.
He says he plans to take his family on holiday for the next couple of weeks. "It feels great. Words can't describe how I feel," he said.
"When my brother passed away in 2008 that was the point I turned my life around.
"I turned professional [but] I used to be up to no good before that.
"Since I've turned professional I've just stayed at home, just being a family guy and it's paid off massively.
"I train so hard in the gym so that when that moment comes where I've really got to dig deep, that's when I show the crowd my determination, grit, strength and my will to win.
"At the moment I haven't had to show that."
Selby is the third Welshman to win a featherweight world title, after the great Howard Winstone and Steve Robinson, and the 12th Welsh world champion in all.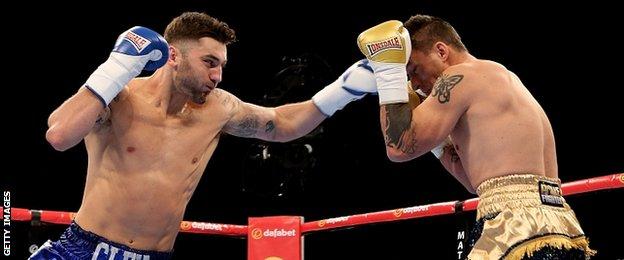 One of those 12, former light-heavyweight world champion Nathan Cleverly, fought before Selby at the O2 in London and took just 24 seconds to knock out Czech journeyman Tomas Man.
Cleverly now hopes to fight Juergen Braehmer for the WBA light-heavweight belt in September.
Further down the undercard Welshman Craig Evans was beaten in his British lightweight title fight against Scott Cardle on a unanimous decision.