Lee Selby: Inside the world champion's dressing room

By Steffan Garrero
BBC Wales Sport
Last updated on .From the section Wales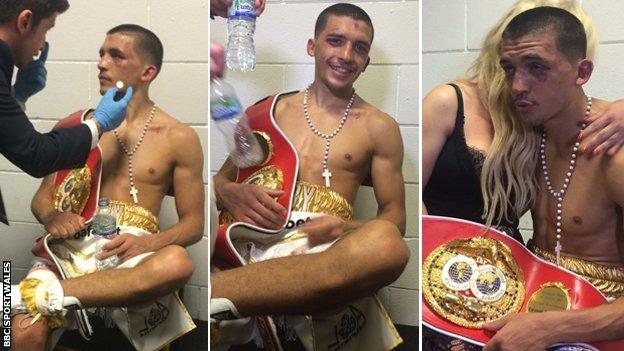 BBC Radio Wales Sport's Steffan Garrero was invited into Welsh boxer Lee Selby's dressing room shortly after the fighter had won the IBF featherweight world title at the O2 Arena in London on Saturday night.
The Welshman, 28, was awarded the fight unanimously after the bout was stopped in the eighth round when Evgeny Gradovich's right eye was cut following an accidental clash of heads. Here is Steffan's behind-the-scenes look at what happened after the fight.
There is a moment when a world title changes hands; when challenger beats champion.
It is not a public moment or one which many outside the inner sanctum are privy to; it is heartbreaking and uplifting in equal measure.
"Do you think I should take it back to [Evgeny] Gradovich's changing room myself?" asks the new IBF featherweight champion Lee Selby.
"I think it's the right thing to do it myself."

Selby has the IBF belt over his shoulder, posing for photos with family and friends in his changing room at the O2 Arena in London.
But despite winning a technical decision half-an-hour previously and becoming the champion, the belt does not belong to him. Not this particular strap. This is the one Gradovich brought with him from Oxnard, California last week. The one held behind his head at the weigh-in; the one which was held aloft as he entered the ring at 20:00 BST.
Selby's own trinket will arrive in the post in a few weeks, after a well-earned break.
Period of reflection
Spend time with Selby and it becomes clear that he is a family man, a professional man, a kind man.
"I've turned my life around to get to this point. Wind the clock back six or seven years and I wasn't so committed to the sport," he said.
Selby looks off around the room to think of the best way to describe his transformation into the world champion.

"I haven't got any mates," he said. "I guess I've had to leave the ones I used to hang around with behind to get to this point."
Selby pauses again: "But then most of them were wrong 'uns anyway..." He grins.
Blood on the gloves
His white and gold clothing lay next to his kit bag on the floor, the flashy tasselled outfit which is part of Selby's exuberant personality inside the boxing ring.
The gloves are splattered in the blood of the former champion. The cuts to the eyes of Gradovich brought the fight to a premature conclusion. Not that Selby's victory was ever in doubt.

Two judges had him losing just one of the eight rounds, the other had it a shut out for the Welshman.
"I didn't get out of second gear, I was cruising again." muses the former British, European and Commonwealth Champion.
It might sound like an arrogant statement, but the look in his eyes is a self-assured one. Outside of the ring he is shy, nervous even, until the topic returns to boxing.
That's where his confidence lies; in his ability and his training.
Remembering what really matters
His focus, refocus if you like, came after the death of his brother Michael Slevin in 2008. Lee had just turned professional and his brother's death sent him off the rails for a short period.
"But then I turned it around, I decided to make something of myself, rather than just sit around and drink and waste my talent," he said.
Selby looks at his on-loan red IBF belt: "I'll take some flowers up to Michael's grave when I get back. Then when my belt arrives I'll take it up to show him too."
Around the changing room his father Lee Sr, his younger brother Andrew and his girlfriend Meggie look on. They are with Selby every step of the way; a close knit supportive family.
The unbreakable bond of those who have been subjected to bereavement.
Just 30 minutes earlier father and son embraced over the ropes of the ring in front of 18,000 fans.
"I love you Dad." said Selby Jr.
"I've loved you since the day you were born." replied Senior.