Lee Selby to defend IBF featherweight title in Cardiff
Last updated on .From the section Wales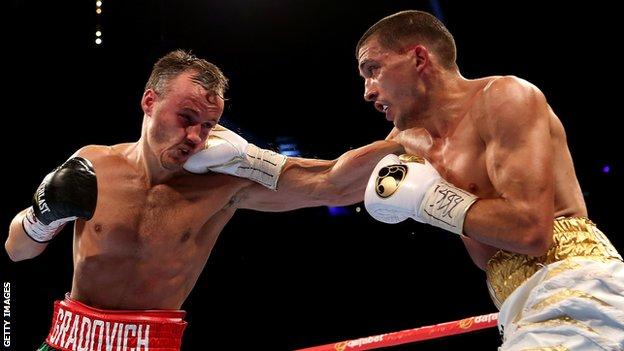 Wales' newest boxing world champion Lee Selby plans to make his first IBF featherweight title defence in Cardiff.
Selby, 28, beat Evgeny Gradovich with a dominant display at London's O2 Arena on Saturday.
The Barry fighter will make two title defences in 2015, with the first coming in late August or early September.
"I've proved I'm a worthy champion. I will leave my management team to pick my opponents but I will fight anyone," Selby told BBC Radio Wales Sport.
"I would prefer to fight the bigger names, just like Gradovich, because I wanted to pit myself against the best and not go for a vacant title.
"The featherweight division is probably one of the best in world boxing at the moment."
Selby has previously said he would be eager to fight Englishman Josh Warrington in 2016.
Before taking on the Leeds boxer, however, Selby wants to defend his IBF featherweight crown.

"The mandatory defence will then come and hopefully I can win that and look to a unification fight," he added.
"There is no point being a champion if you are not defending your title.
"I thought that once I became world champion that would fulfil my dream but there is still something missing. I just have to keep fighting and defending my title.
"I want to defend my title as regular as possible, make as much money in the bank and hopefully retire with my good looks intact!"
Selby became Wales' 12th boxing world champion with his victory against Gradovich.
Despite that momentous achievement, Selby's post-fight celebrations were modest.
"I just went up to my hotel room and ordered a cheesecake," said Selby.
"That is what I do post-fight - order a bit of cheesecake with a bit of sparkling water and that's my celebration.
"I will stay grounded. No matter how far I get in boxing, how much I achieve and how much money I make.
"If I didn't, I would have my father on my case and he would be the first one to tell me off."