Wales v England baseball future threatened as annual game falls
Last updated on .From the section Wales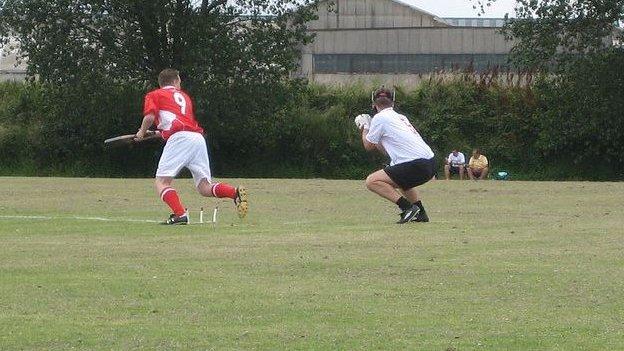 The annual Wales versus England British baseball match, which apart from the two world wars has been played since 1908, will not take place this year.
England have struggled to raise players for the international in recent years.
"It is a terrific blow for the game of baseball," said Welsh Baseball Union spokesperson Mark Jones.
"Without having to put any blame on anybody... England feel that the funding in their schools has let them down to bring youngsters through."
British baseball has significant differences to North American baseball, and the British game is played at club level primarily in south east Wales and in Liverpool.
Differences between British baseball and North American baseball

British baseball

North American baseball

The ball must be thrown underarm to the batsman

The ball may be 'pitched' overhand, siderarm or underarm

Each team has 11 players

Each team has 9 players

Each team has two innings, which end when all 11 players are 'out'

Each team has 9 innings, which end when only 3 players are 'out'

The bases are poles, to be touched with the hand

The bases are bags, to be touched with the foot or hand

The ball may be hit in any direction to get runs

The ball must be hit in a designated direction

A player scores a run for each base that he touches after hitting the ball

A player scores a run only after reaching the fourth base, or 'home'
Welsh Baseball Union spokesperson Mike Jones believes the continued development and existence of the British version of baseball in England and Wales is under threat.
"That [a lack of funding] is happening a lot in our schools in Cardiff and Newport, which has to be addressed in the long term if the game is to survive," Jones said.
"Without youngsters you're not going to have adults to play the game."
Wales have dominated the once-a-year fixture against England recently, an indication of the relative strength of baseball in the two countries.
"For the last eight to 10 years we've generally been much too good for them, which may have ended their spirit to keep it going," Jones added.
"This morning I spoke to the chairman of Welsh Baseball, Michael Dacey, they are in contact with England and they are hoping to resurrect the game.
"But their game is in trouble and ours is not what it was."