New chief executive Sarah Jones to make Welsh Netball 'stable'
Last updated on .From the section Wales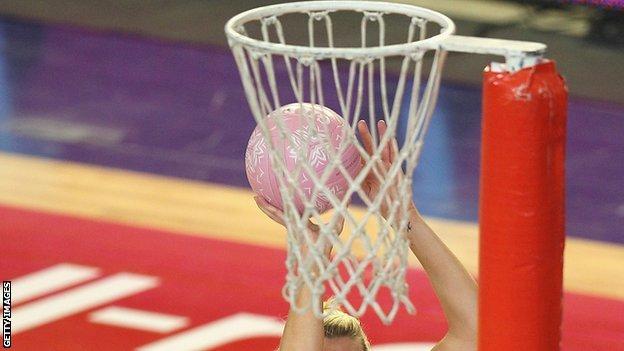 The new head of Welsh Netball, Sarah Jones, hopes to provide stability after a series of top-level departures.
Jones is the third chief in a year as Davies' predecessor, Mike Watson, was only in the role for six months.
"I think it's just an unfortunate scenario, and I'm hoping I will be able to stabilise it and start to move the organisation forward," said Jones.
In 2014 there were also changes on court with the dismissal of Wales and Celtic Dragons high performance coach Melissa Hyndman, shortly before the Commonwealth Games.
Jones, who is on secondment from Welsh Gymnastics, says she is not aware of any problems behind the scenes at Welsh Netball.
"Not that I'm aware of. I think both changes of appointment were due to personal reasons," Jones told BBC Wales Sport.
Sport Wales chief executive Sarah Powell says the governing body had no concerns about the upheaval at Welsh Netball.
"I'm not worried about them. They're in discussions with us, we're aware of what's been happening, and we're happy Sarah's gone in," Powell said.
"We've been mentoring her for the past year and a half so it's great to see her step up and take this opportunity.
"They [Welsh Netball] have got the World Cup coming up so they've got to focus on that. They've got a new coach in and are starting to see better results, which is great so we've got no concerns over netball."